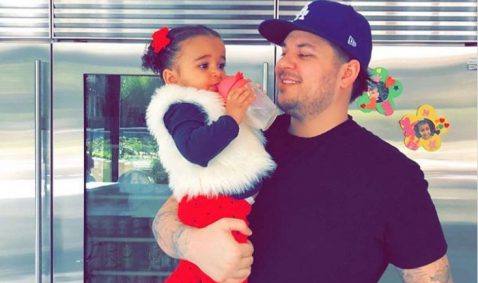 Rob Kardashian has had just about enough of Blac Chyna's unpredictable and highly questionable antics over the past few months. Therefore, the reality star is going to a judge to request changes in their joint child custody.
The last straw came when Chyna and a random fan got into an altercation at Six Flags in suburban Los Angeles. Multiple videos went global showing Chyna using baby Dream's stroller as a weapon in the fight, and sources close to the situation claim the incident could cost Chyna some serious future earnings because of her disturbing and unstable behavior.
Kardashian is said to fear for the safety of his baby girl Dream, TMZ reported. He and his legal squad are allegedly getting ready to present some legal documents to outline for how Chyna needs to comport herself around Dream, including one where neither he nor Chyna can bring their significant others around Dream until after six months of dating — and this would include her current teenage boyfriend YBN Almighty Jay.
Also, according to insiders, Kardashian believes he is paying Chyna way too much child support. TMZ says Kardashian is forking over $20K a month, and he wants it reduced significantly since he and Chyna share equal custody time with Dream.
But there's another, more important twist to Kardashian's request. Kardashian has also been banned from Instagram after he porn-shamed Chyna after he discovered she was cheating on him with another man. This has greatly impacted Kardashian's ability to generate the type of revenue he once did and therefore he cannot sustain these exorbitant monthly installments to Chyna, the entertainment publication claims.