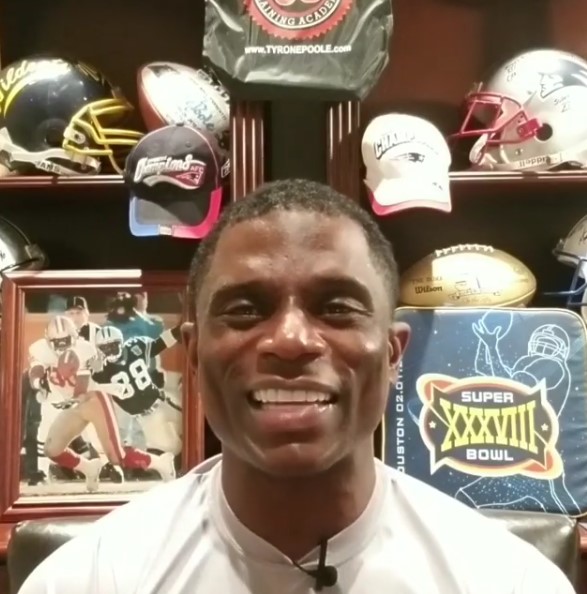 A bachelor's degree. After 12 seasons in the NFL and releasing a book in his post-retirement career, a bachelor degree from Fort Valley State University is the accomplishment that Tyrone Poole is currently thankful for.
"It feels good to start a race and finish a race," Poole said in an interview with rolling out. "That's how I feel. I started a race and there was some type of hurdles, some type of obstacles. Something that happened to delay it, but delayed doesn't mean denied."
Poole originally enrolled at FVSU in 1991 and he left in 1995 to declare for the NFL Draft where he was selected No. 22 overall in the first round to the Carolina Panthers. After three seasons in Carolina, Poole found his way onto the Indianapolis Colts before ending up with the New England Patriots. He then returned to school because he wanted to earn his degree, he said.
Now, a decade after his final NFL season, Poole runs his foundation, promotes his book, Ultimate Success in the Game of Life, and trains others as a fitness evangelist among other roles. Poole, who said he would use Archie Eversole's "We Ready" if he could pick a walk up song like this year's draftees did, had an interesting take on who he thinks will pan out in the class of 2018.
"I found out during my years in the NFL that everybody looks good on the college level," Poole said. "What I think they should do with the 40 [yard dash] is make everybody run the 40 with their full uniform on to see who's going to be the fastest person on that field. What I'm saying is that you can't really go off the paper. On paper, the person looks really good number wise, they jump out of the ceiling, they run like the wind but there's a difference. I always go back to Jerry Rice. They said that Jerry probably couldn't break 4.5 but when Jerry got on that field, I've never been able to see someone run him down from behind. I've seen him run away from guys who run a 4.2, 4.3."
The dark side of life after the NFL has come to the forefront over the last few years. The movie Concussion shed a light on chronic traumatic encephalopathy (CTE), which comes from repetitive head trauma which often happens during play. The last severe famous known-case of CTE was Aaron Hernandez, the former New England Patriots tight end who killed himself in a prison cell last year after being acquitted of a 2012 double murder while still serving life without parole for another murder. Hernandez suffered from stage 3 of the possible 4 stages of CTE.
The NFL has agreed to pay $1B to the former players suffering from the concussion symptoms. Other former players suffer from arthritis and can barely move decades after retiring from the hard-hitting game.
"It's like the old saying, 'It comes with the territory,'" Poole said. "I'm not saying that to say it in a negative way; it's just what comes with the territory. Injuries come. Injuries come with the game of football."
Poole does believe, however, that all former players should continue to get paid to accommodate any post-career health issues. The exact amount the former players should get is unclear to him, though, because the value of the league has increased so much over the years.
Poole's 38 Foundation hosts a multitude of community events in Georgia, including the father-daughter dance, which encourages men to show women how they should be respected in future relationships with men. The foundation as a whole focuses on three pillars: education, fitness, and humanitarianism.
For more information about Poole's foundation and upcoming events, he can be followed on Twitter @tyronepoole38 or you can visit his official website at https://www.tyronepoole38.com/.