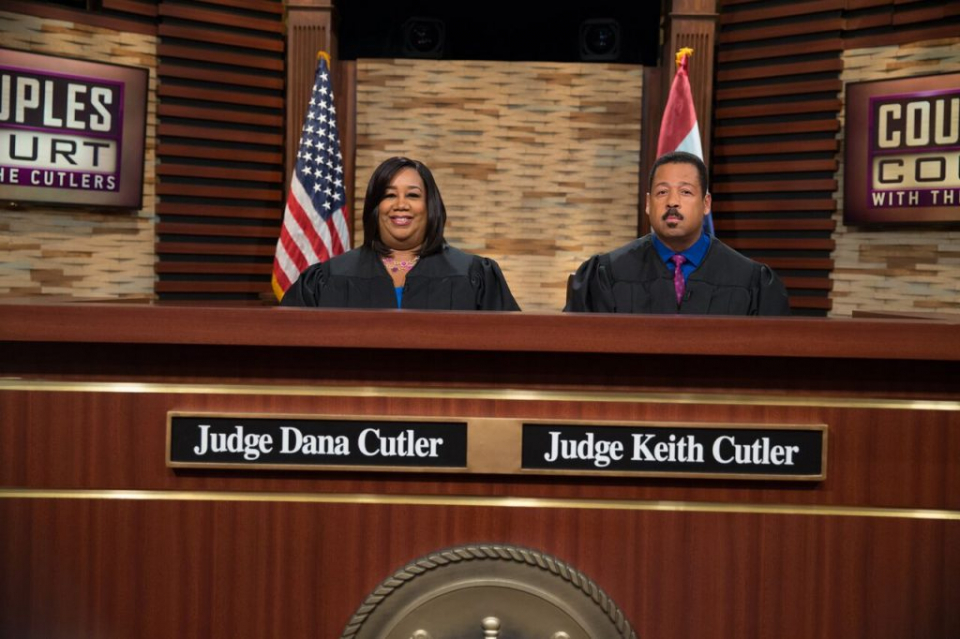 "Couples Court" TV stars Dana and Keith Cutler stopped by rolling out's Reality Check to talk about the hit show on Atlanta's CW, the importance of prenuptial agreements, cheating spouses, and how they've managed to stay married for 35 years. On "Couple's Court with the Cutlers," attorneys Keith and Dana Cutler hand out verdicts to couples seeking justice after alleged infidelity. As with most court TV shows, the cases and litigants themselves are outrageous with extreme circumstances. The Cutlers apply their legal backgrounds to determine who's running game and who truly wants to save their relationship.
"An affair is not a deal breaker in a relationship," Keith says adamantly, "in fact if a couple uses the hardship to develop more effective communication and listen to each other it can be the opposite."
As on the show, his wife chimes in with advice that complements her husband's initial statement. "Both sides have to be willing to forgive and then implement new behavior moving forward," she explains.
While cheating is the hottest topic on the show, the Cutlers had some additional advice for couples looking to tie the knot in the near future. "Of course, celebrities should have prenups but sometimes a person with less needs a prenup even more. If you only have ten dollars to your name, you don't want to go through a divorce and end up with five," Dana warns. She went on to liken a prenup to having health insurance. "You don't go through life thinking you are going to get cancer, but you keep health insurance anyway just in case something like that happens. A prenuptial agreement should be looked at like insurance. Neither side should be offended because they both should have their own."
Unlike some relationship experts, with 35 years under their belt, the Cutlers have proven to be a living example of what a successful, functional marriage looks like. While they don't claim to be perfect, Keith says "practical realism" has kept their marriage and family life successful. Besides meeting and falling in love at Morehouse and Spelman college respectfully, the two agree a secret to their success has been keeping family and friends out of the middle of their marriage. "We decide what we are going to do and pretty much that's it," Keith says.
Dana also believes that her parents' successful marriage gave her a firsthand perspective of a healthy relationship. But even with all those things in their favor, the two admit they have something special that holds all that together. "I'm not sure if he's my soulmate, because I don't know if we only have one, but there's something that happened here. We just fit, and we always have," Dana says.
Do you agree with the Cutlers? Should prenuptial agreements be a necessary document for marriage? Let us know your thoughts below.