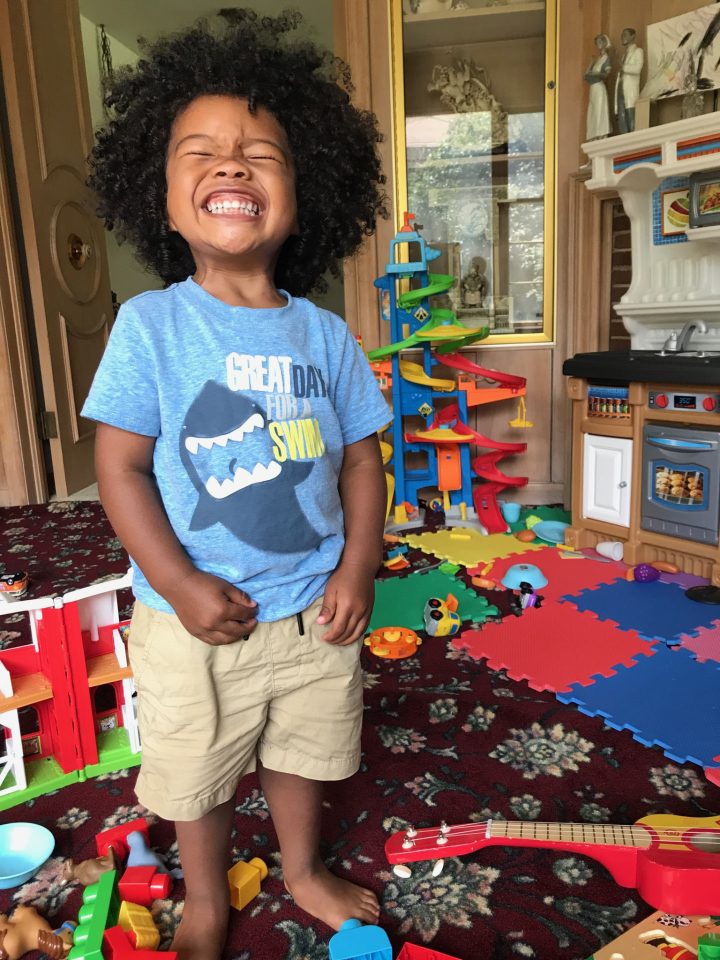 Meet Phoenix Frazier, a cool, smart, energetic kid who just became a Metro Parent Magazine CoverKid finalist. Phoenix's mom, Kebina Young Frazier, is excited about the opportunity for Phoenix to become a CoverKid and spoke with rolling out to share her enthusiasm. His mom shared a lot about her dynamic love bug of a child with a bright smile, who has a "… big personality," and loves to do typical 3-year-old things, like playing soccer, basketball and swimming."
Check out the rest of what Frazier lovingly had to say about the sonshine of her life below, and remember to go vote for Phoenix via the below link below. The child with the most votes wins.
Where did Phoenix get his big personality from?
My son's big personality is just who he is. We surround him with love and light and positive energy and he responds with the same in return.
How does Phoenix's style represent Detroit?
His style represents Detroit because he has grit.
How do you share so much love that is shining out of him?
I share the love shining out of him by exposing him to as much (age-appropriate) information, entertainment, "people to see, places to go, and things to do" as possible. We want him to have a well-rounded education about life that extends far beyond the traditional classroom.
What does winning this contest mean to him?
Honestly, winning this contest probably doesn't mean much to him … I just want him to have fun.
When you see him smile, what do you think about?
When I see him smile it just feels like my entire heart is going to bust wide open, I'm so happy. I know that sounds corny, but it's the truth.
What are his favorite things to do?
Some of his favorite things to do are typical three-year-old things, like playing soccer, basketball, and swimming. He loves to be outdoors. He also loves dogs, so being around animals makes him really happy. He loves playing with his friends and cousins. He especially loves playing with toy trucks and cars and dinosaurs. His favorite shows right now are "Paw Patrol" and "PJ Masks."
Who was your grandfather and who was he to Detroit?
My dad was Claud Young, and he was a well-known physician in Detroit. He built his private practice on 14th Street and Philadelphia and stayed in that community until he passed in 2011. He was a staunch civil rights advocate, and people loved him for his "straightforward, no BS, it is what it is" approach to life.
How does Phoenix remind you of his grandfather?
He reminds me of my dad in so many ways. Especially when he was an infant. He used to have this really thoughtful facial expression all of the time like he was thinking really deeply about something, and it would make me cry because it reminded me so much of my dad's facial expressions. He's very curious and inquisitive and he asks a lot of questions. He's also very determined.
How did you select your son's name?
My husband and I decided on his name because we appreciate the symbolism behind the Greek mythological representation of the phoenix: rebirth; rising out of the ashes. We want our Phoenix to overcome any adversity or challenges that may occur along his life's journey, and emerge from the rubble even stronger and better.
Where do you think Phoenix would like to go to college?
I'm not sure where he may want to attend college. But as a Clark Atlanta University alumna, I definitely want it to be an HBCU [Historically Black College or University].
What is your biggest dream for your sonshine?
My biggest dream for Phoenix is that he is happy and safe and whole — always.
Voting Instructions
Click the link for the contest: https://mpcoverkids2018.skild.com/vote 
Simply click on the vote button
Register to login via Facebook, Google, LinkedIn, Yahoo, or your own personal email
Enter your information, including an accurate email address.
Follow instructions for login info, then log in with your new login information. Once logged in, cast your vote for Phoenix.
You can only vote once and voting continues through 11:59 p.m. EST, Friday, May 18. Let's help Phoenix and his mom secure the win. #GoPhoenix! #GoVote!