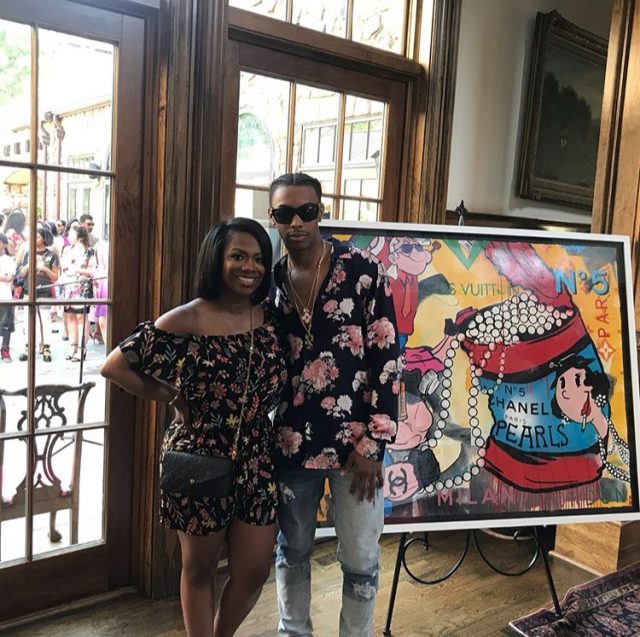 "Usher's New Look Foundation highlights the sparks and gifts of young people, and that's precisely what Skyler Grey has done." — Careshia Moore, VP of programs and partnerships at the foundation.
Art has a different meaning for everyone. It allows artists to express themselves visually through their unique aesthetic.
On May 12, international painter and Forbes 30 under 30 awardee Skyler Grey, showed off some of his work at a private mansion in Atlanta, taking his exhibit to another level by partnering with Usher's New Look Foundation and other organizations. Notable figures including singer and reality star Kandi Burruss, Grammy award-winning producer and songwriter Bryan-Michael Cox, marketing guru and author Steve Canal, super manager Coach K, Olympic Gold Medalist and former WNBA All star Swin Cash, several of whom shared their insights for success on a panel during the event. 
This partnership came to fruition when a longtime supporter of the foundation, Sue Hrib commissioned a piece from Grey. Hrib decided to host an art exhibit in support of Grey and the Foundation. Started 20 years ago in 1999 by Grammy award-winning singer Usher Raymond IV, Usher's New Look has been able to create global youth leaders by helping them develop their spark. "Through the Foundation we provide youth access to mentorship and other opportunities, as well as skills to cultivate their talents and gifts so they can ultimately be successful, and give back," said Moore, 
Grey was introduced to art at the age of nine after losing his mother. "Art is something I use to let out my emotions. I lost my mom, but she gave me this talent. I was destined to create," said Grey.
Moore hopes that the audience took away inspiration from Grey and Usher's New Look while attending the art exhibit.
The exhibit also allowed guests to donate to the summer opportunities that Usher's New Look provides to students from June 9-July 22. The youth will be able to participate in activities dealing with robotics, app development, and entrepreneurship workshops. Through access to opportunities, Grey hopes aspiring young artists can realize that they can be more than what society has predicted. "The common perception for little Black kids is that you will be a football player or basketball player. I just want to show everyone … different … messages through my art," said Grey.
Thankful for the continuous support from people like Sue Hrib, Grey presented her with a new art piece for her home. "Sue challenged me to do a little bit of everything. The painting has a lot of symbolism. The red represents something lovely," said Grey. He added, "I wanted to use fashion and art in all one way. This painting has a history through me, and now this painting is going to be at Sue's house."
Grey's success is evident, and Cox reminded everyone that they too could be in his [Grey's] shoes. "The thing about becoming successful is that you have to see the success first," said Cox. In the future, Moore believes Usher's New Look can help the youth be their best selves through skills which will mold them into productive leaders. Check out pics from the event below. All photo credits below: Sierra Porter for Steed Media Service