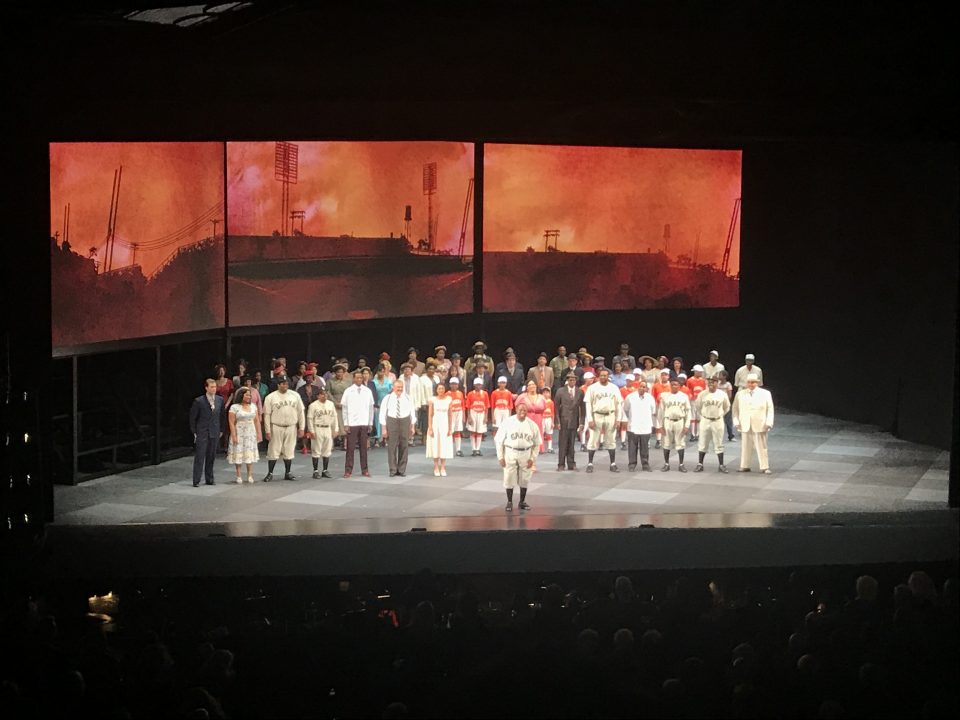 The story of Negro Leagues baseball legend Josh Gibson is extraordinary and was brought to life on stage at the Michigan Opera Theatre in the groundbreaking opera The Summer King. Gibson was one of the greatest baseball players of all time and his story of triumph and tragedy showcases his talent, hard work, and journey of overcoming prejudice and discrimination in the 1930s and 1940s. It was said that Gibson's record was so impressive that he ranked second, only to Satchel Paige, as the best-known Negro League player. His captivating story uncovers his life and the struggles he underwent as a famous Negro League baseball player. It was as informative as it was entertaining. Unfortunately for Gibson, he died suddenly on January 20, 1947, a few months before Jackie Robinson broke the color line in the major leagues. Gibson was, however, inducted into the Hall of Fame in 1972, and became the second Negro League player, after Satchel Paige, to be so honored.
The Michigan Opera Theatre, in conjunction with the Pittsburgh Opera presented the new work. Sponsors include General Motors as the 2018 Spring Opera Season Sponsor, PNC Bank as the Summer King Saturday Opera Sponsor, and MGM Grand Detroit as the Summer King Sunday Opera Sponsor. Gibson's story first debuted late last year in Pittsburgh, and the Detroit debut was held on Sat., May 12, 2018. Detroit performances will continue to run through Sun., May 20, 2018.
The show was phenomenal, and the cast was poignant, stirring and inspiring. They all cohesively worked together to deliver a stellar performance that commanded a standing ovation at the end of their acts.
In attendance for the Detroit debut were Gibson's descendants, and included his great-great-great granddaughter Madason Gibson, her two sisters and her father, Gibson's great-great grandfather, Sean Gibson. When asked how he felt about the legacy of his great-great grandfather being brought to the stage, Sean Gibson had this to say: "Well, number one, I think it's exciting, first of all, to have an African-American male portrayed in opera. That's something I've never even dreamed of."
Sean Gibson also runs the Josh Gibson Foundation (http://www.joshgibson.org /) in Pittsburgh. The foundation's goal is "to provide the type of access that Josh Gibson never enjoyed with the creation of facilities and baseball fields dedicated to the youth of the Pittsburgh community," according to their website. The organization, which was established in 1994, is also "dedicated to providing a variety of academic and athletic programs that allow the next Josh Gibson to reach his or her potential."
When asked how the production came about to tell his great-great-grandfather's story, he said, "I was taught by my grandfather that you never turn down a sale, so when we [the show's producer] talked about it and once I heard the story, I said let's give it a shot. Ten years later, 2017, my great-great grandfather's story debuted on the stage in Pittsburgh, PA." He went on to voice his excitement for his own kids to see a part of their legacy as he said, "For this show to be in Detroit, I'm so excited. I'm excited for my kids to see it! [We're] a part of history!"
If you weren't able to make the Detroit debut, there are several remaining show dates listed below:
May 16, 2018, 7:30PM
May 19, 2018, 7:30PM
May 20, 2018, 2:30PM
For more information, visit http://www.michiganopera.org/opera/the-summer-king/
See photo's below of baseball legend Josh Gibson's family.