Alabama high school senior Corey Patrick went from anonymous teen to pop culture sensation overnight after a MAX (Alabama) bus driver uploaded photos of the Tarrant High School student walking to the bus stop alone in his graduation gown.
Morning radio show superstar and comedian Rickey Smiley, an Alabama native who got wind of Patrick's plight to graduate despite nearly insurmountable odds, announced that he and other celebrities, including Da Brat and Tyrese, would pitch in to surprise the teen with a new car.
After the graduation, Smiley presented Patrick with a brand new whip, a Jeep, at the 95.7 Jamz studio.
Patrick was informed that he would be getting a full scholarship to Jacksonville University, according to WIAT.
This all emanated from the fact that bus driver DeJuanna Beasely, a Tarrant, Alabama native who who was so moved by the strides the teen was taking in order to graduate — with the intent to major in computer science in college — that she took a photo of the teen walking to the bus stop in his cap and gown.
Beasely posted the photo to Facebook with the following caption: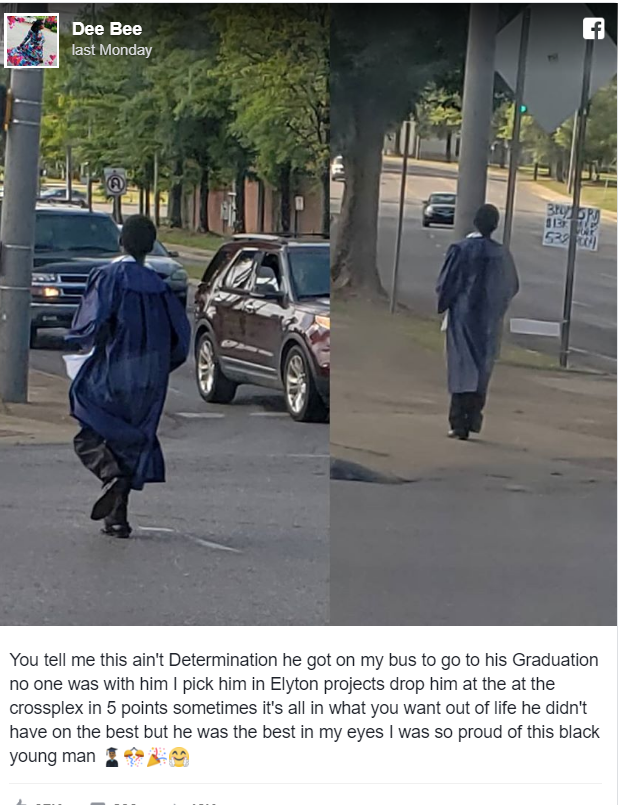 Almost instantaneously, the post went viral nationwide, reported WBRC.
Patrick told the news station said he wore his gown because he was proud to be graduating.
"I was happy on that day," said Patrick.
Patrick also explained that he was not going to allow the lack of transportation, and the fact that he had to take multiple buses to and from school, hinder or thwart his dreams. Besides, he had gotten accustomed to the grueling everyday routine to get to class.
"I had to do what was necessary for me to walk this year," he told WBRC.
Patrick said he was going to move mountains, if necessary, in order to graduate with his friends.
"Corey was getting up at 4:30 in the morning and had to be at the bus stop at 5:41 in the morning for the last year. Even when he would get out of school he couldn't get from that side of town until 5:19 when the bus runs back over there. So he doesn't make it back this way until about 6:30 or 7 o'clock," Felicia White, Corey's mother, told WBRC.
His inspiring, tear-jerking story inspired many and engendered the praise of celebrities.
Check out the story below:
We did it!! We gave Corey Patrick a car of his own!!!! pic.twitter.com/KFwwmUn7Gm

— Rickey Smiley (@RickeySmiley) May 25, 2018