Cavs' J.R. Smith getting clowned by NBA players for colossal mistake in Finals
J.R. Smith needs to get himself a new weed man. This is what one fan tweeted after Smith's colossal boneheaded play at the end of regulation that cost the underdog Cleveland Cavaliers the game — and probably the series — against the Golden State Warriors in the NBA championship series.
It was the play heard around the world. At the end of Game 1 of the NBA Finals, with 4.5 seconds remaining and the Cleveland Cavaliers and Golden State Warriors tied at 107, Smith grabbed an offensive rebound off of George Hill's missed free throw and had an opening to win the game.
However, instead of going back up to possibly defeat the Warriors, or pass it to a teammate to shoot (LeBron James was wide open at the 3-point line), Smith seemingly didn't know the score and dribbled the ball out — as if he thought the Cavs were winning and he was trying to avoid getting fouled — as the shot clock expired.
Smith later claimed that he knew the score and was waiting for someone to call a timeout, but very few people believe him, if anyone.
Once in overtime, the Warriors vanquished the Cavs rather easily. The Cavs, looking shell-shocked from Smith's devastating error in judgement, barely showed up in overtime and lost 124-114. The Warriors take a 1-0 lead in the best-of-seven series. .
The play immediately broke Twitter, with dozens of NBA players mocking Smith for his mistake through hilarious memes, gifs and emojis. Take a look: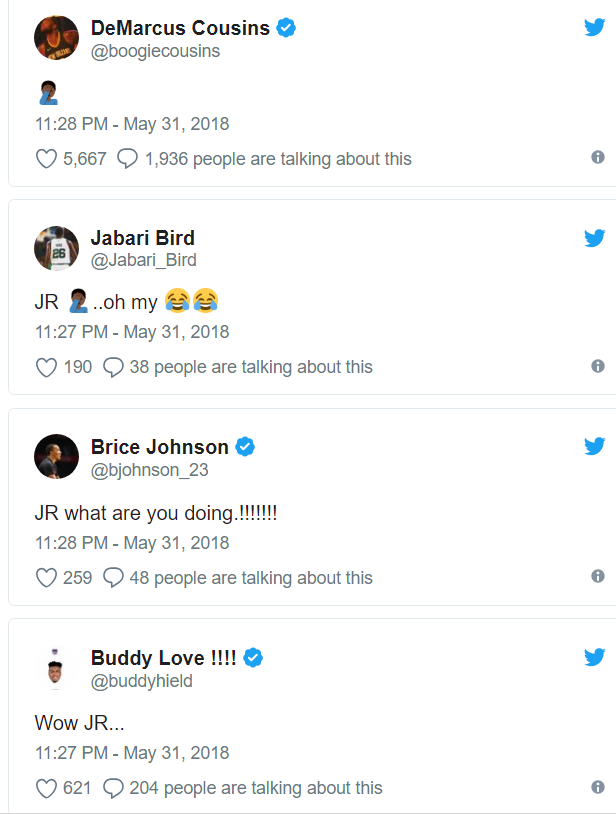 Even some NBA fans got in on the fun of mocking J.R. Smith: