The beauty industry is saturated with big companies creating inferior products, claiming they are natural when really they are made with fragrances, triclosan and parabens.
Pure Tropix is an all-natural, Atlanta-based skin care company. They work with healers and herbalists in the Caribbean to create products with natural extracts, essential nutrients, and powerful antioxidants to keep the skin healthy and youthful. After hearing about these natural products, we had to try them for ourselves. This writer sampled an array of Pure Tropix products focused on clearing acne-prone skin and dark spots. I have very sensitive skin and suffer from allergies, so it's great to be able to look at the product labels and be familiar with the ingredients, without having to turn to Google University.
Read more as we share our review of Pure Tropix skin care products.
The Brightening Cleanser is made with organic Rooibos Extract, a hypoallergenic. This is perfect for those with sensitive skin like myself acne, eczema, rosacea, and psoriasis as it helps to calm reactive skin and soothe redness, itching, and rashes. I also love that this product helps with hyper-pigmentation which is something else I deal with. After using this product, I felt that it cleansed my skin well without drying or irritation.
Ingredients: Organic Aloe Leaf Juice, Organic Alcohol, Organic Olive Fruit Oil, Emulsifying Wax, Glycerin, Organic Rooibos Leaf Extract, Organic Green Tea Leaf Extract, Organic White Tea Leaf Extract, Chai Seeds, MSM, DMAE Bitartrate, Vitamin E, Sunflower Seed Oil, Organic Neem Seed Oil, Organic Rosemary Leaf Extract, Organic Sunflower Seed Oil, Vitamin A Ester, Vitamin C Ester, Provitamin B5, Xanthan Gum.
What I loved most about this Purifying Honey Oil Cleanser is the way it lathers. Created for those who suffer from dry, problematic, inflamed and sensitive skin as well, it contains Black soap which lightens dark spots.
Ingredients: Virgin Olive Pomice,  Glycerin, Jamaican Black Castor Oil, African Black Soap (Saponified Unrefined Shea (Butyrospermum parkii) Butter and Unrefined Palm Kernel (Elaeis guineensis) Oil), Apple Cider Vinegar, Bromelain, Papain, Bentonite Clay, Royal Jelly, Essential Oil Blend.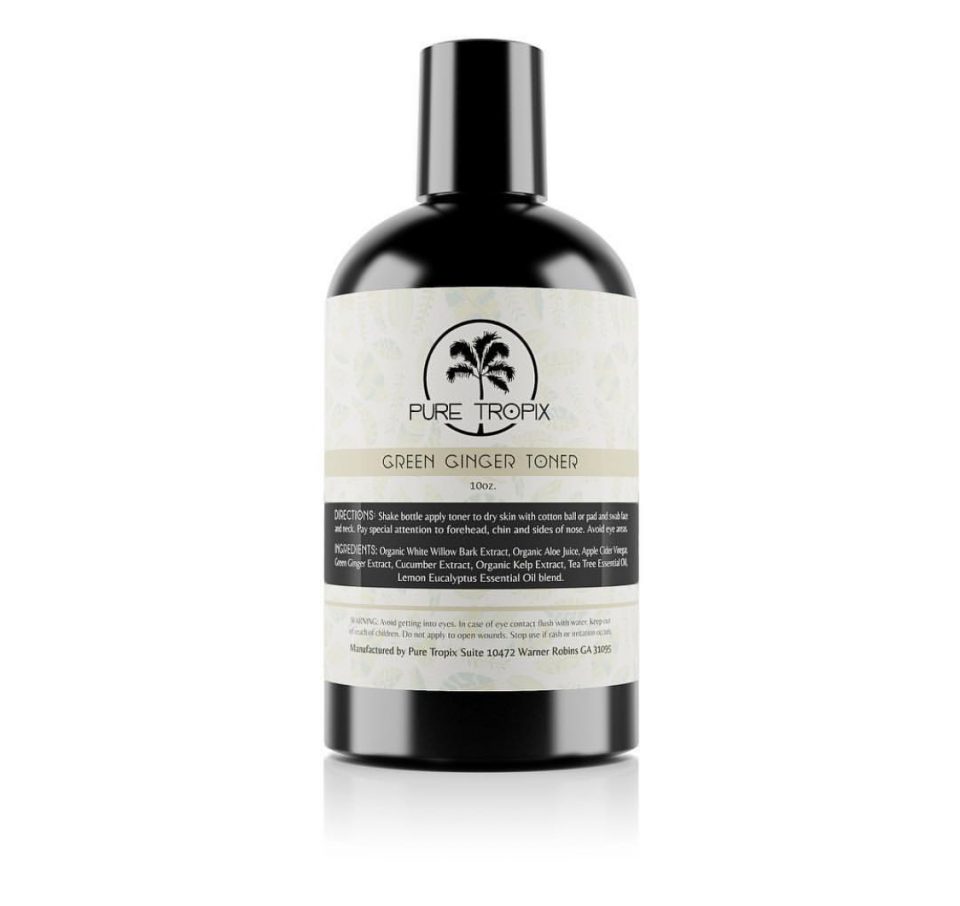 The Green Ginger Toner piqued my interest because of its name. I actually enjoyed using this product. It contains antioxidants, vitamins C and E, protecting the skin against free radicals and cell damage. It's good for daily and nightly use after cleansing, as well as to wipe away dirt and oil while on the go.
Ingredients: Organic White Willow bark extract, Organic Aloe Juice, Cucumber Distillate, Lemongrass Distillate, Apple Cider Vinegar, Ananas Sativus Fruit Extract (pineapple), Tea Tree Essential Oil, Citrus Sinensis (Orange) Essential Oil, Citrus Cergamia (Bergamot) Essential Oil