DJ Sparkx has become quite popular since becoming the exclusive DJ for rap sensation Cardi B who is currently taking a break preparing for the birth of her first child. But that doesn't mean the man born Greggory Opont gets to take a leave as well. For Sparkx, it's business as usual. Rolling out was able to catch up with DJ Sparkx after Cardi B's Broccoli City tour to get the deets on the life of a celebrity DJ.
Now that the tour is over, what are you up to? 
I just finished up my last tour with Cardi from her Broccoli City tour at the end of April. Now that I'm the exclusive DJ for Cardi B, it's almost impossible to work with another artist at the same time; mainly because usually when you work for a prominent artist like Cardi, their schedule consumes most of your time. So while she's pretty much on maternity leave I'm back in NYC, which is home for me and I'm doing my own thing. I'm just doing clubs and shows up and down the East Coast. I've got bookings in Canada and France and I'm just going around doing events for different promoters.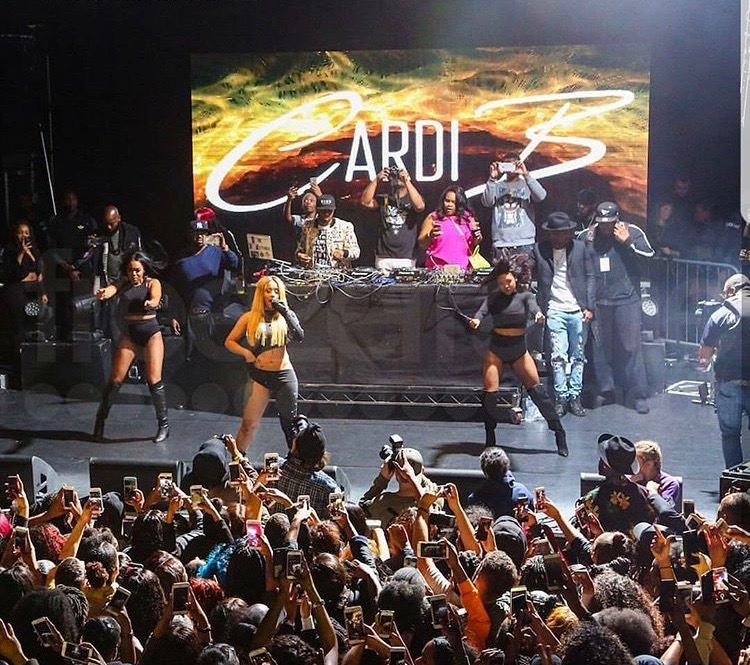 Tell us something about the humble beginnings of DJ Sparkx.
From the time I was 15 and up I had to fend for myself, make my own income and I had to be determined. I think that whatever challenge you have in life people are going to tell you that you can't do it or it's not going to work. You just have to be determined to make it in this world. So at 15, I was deejaying but it was more of a hobby. I didn't really take it seriously. Before I was who I am now, to reach any dream you have to have money. I mean I worked. When I was 16 I worked at the supermarket. When I was 17 I worked for a physical therapy clinic until I was 21. I didn't stop working in the clinic until deejaying just took up the majority of my time. I had to keep calling in sick like I can't make it. Eventually, I had to take a leave of absence. Like even if you have a dream, you have to have a way to fund it.
When you say you are bridging to music production, does that mean you are making tracks for artists now?
Yes, right now I'm currently working with a few artists. I don't want to say who I am working with until I solidify a few things with them. I have some production coming out [at] the end of 2018. So look out for some new music coming. I feel like production is one aspect of deejaying and deejaying is one aspect of production. Not every DJ is a producer. Not every producer is a DJ. It's definitely two separate kinds of fields but it's so similar that once you get into that field you can dive into both.
Name three DJs who still inspire you.
I think [there are] more than three DJs [who] inspire me. I think all DJs inspire me in a way. I have some favorites but it changes and varies all the time. If you keep yourself relevant and you keep up to date with your music and keep reinventing yourself, you are always going to have a place with somebody. … It's like you have a DJ Envy who has one of the biggest radio [shows] across the country, "The Breakfast Club," then you have a DJ Khaled hosting the award shows and working with all types of artists and doing all types of music. There are so many things about DJs that inspire me. They all do.
What was your TV experience like?
I think being on TV for anybody is probably like one of the most exciting things. Especially the first time you ever do it. I was like, "I get to see myself on TV?" It's a feeling that's very different and very awesome. Like seeing yourself on TV for the first time you're like, "You are not going to believe this, wow, I am really on TV." Let me tell you this, that TV check is like that's the check you want. Let me know where the TV check is. I will come and pick it up.
Are you able to talk about your television pilot project?
A little bit, but only because it's not all solidified with paperwork. I don't want to give away my idea. But I do have a pilot with another comedian by the name of Jo Smo. I just wanna look forward to it. It's not going to be about music. It will be more about social media. And that's all I want to hint about it at the moment right now. We are in the midst of shooting in the next couple of weeks or at least putting together the production team. We are going to get it shot and potentially shop [it] to a network and see where it goes from there.
DJ Sparkx is currently spinning on New York's world-famous HOT 97.1 FM. He will also be going on the Bruno Mars and Cardi B 24 Magic tour in September. Follow Sparkx on social media @djsparkx.