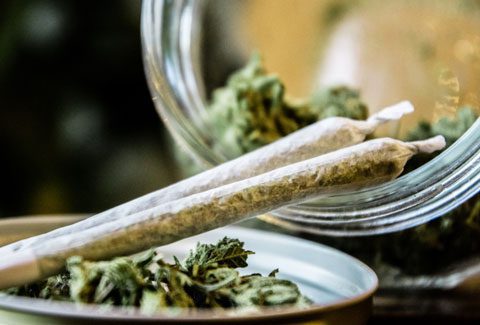 President Trump made an announcement yesterday that has some pot smokers checking their hearing and "ganja-prenuers" jumping for joy. As he was boarding the presidential helicopter he fielded a question from a reporter regarding a current bill making its way through Congress. The bill is known as Strengthening the Tenth Amendment Through Entrusting States (STATES) Act and deals with marijuana legalization in states.
The legislative act would allow individual states to create their own laws related to the cultivation, manufacturing, and distribution of marijuana as long as the states agree to comply with new federally mandated protections to be put in place. The bill was put forward by Sen. Cory Gardner, a Colorado Republican, and Sen. Elizabeth Warren, D-Mass., on Thursday and is considered a bipartisan effort to regulate the burgeoning and profitable marijuana industry in the United States. According to ABC News, this past April Trump and Gardner reached a deal that stopped the government from targeting Colorado's marijuana industry in exchange for Gardner's assurance to not hold up Trump judicial nominees.
The bill would allow banks the opportunity to engage in commercial transactions with legal marijuana business and not face prosecution for money laundering. Many weed businesses are forced to keep large amounts of cash on hand because banks will not take deposits under many existing federal laws. The Marijuana Policy Project, a legalization advocacy group, called the bill "the most significant piece of marijuana-related legislation ever introduced in Congress."
On Friday, Trump stated the following when asked about the bill "I support Sen. Gardner. I know exactly what he's doing. We're looking at it. But I probably will end up supporting that, yes."
Such a statement goes flatly against the stance of U.S. Attorney General Jeff Sessions who has promised a crackdown on marijuana businesses and users. But with 48 states having some form of marijuana legalization and revenues approaching a $1B in some states, weed may soon be legal once again in the United States.