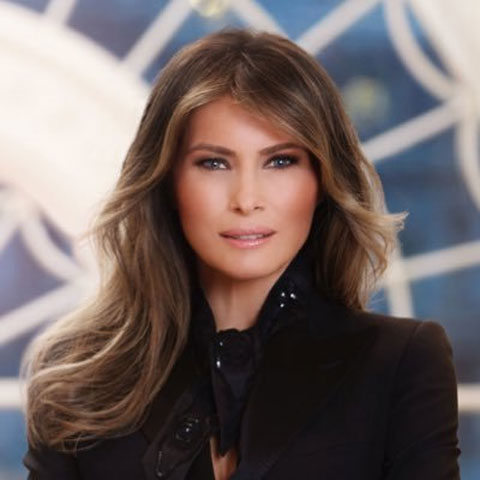 The Trump family continues to be a disgrace to America. One day after Donald Trump finally reversed his own order to separate immigrant kids from their families, his clueless wife attempted to do damage control and caused more damage.
Melania visited a facility at the U.S.-Mexico border for what was viewed as a photo-op. Donald Trump caught backlash after photos emerged of immigrant kids being separated from their families and forced to live in jail cells and cages. Some viewed Trump's decision as a crime against humanity.
After days of blaming the Democrats for his own order, Trump decided to reverse his decision.
Melania was sent to visit immigrant kids with the hopes of changing the narrative created by Donald. But during her visit, Melania wore a jacket which read, "I Don't rally care, do u?" The photo was taken by the Associated Press.
Melania was blasted on social media for wearing the jacket. Her spokesperson responded by saying, "It's a jacket. There was no hidden message. After today's important visit to Texas, I hope this isn't what the media is going to choose to focus on."
However, there is no such thing as "it's [just] a jacket" when you're the first lady of the United States. Every word and symbol matters because it's a representation of America.
Melania continues to get blasted on social media.
Well thats the "Melania Trump is another of @realDonaldTrump s victims" theory, well and truly put to bed. @FLOTUS #NoShame pic.twitter.com/oLYt12MrYV

— Alan ★ Thornton (@AlanThornton69) June 21, 2018
Melania Trump wore a jacket going to Texas for the border visit saying "I REALLY DON'T CARE, DO YOU?" Honestly I'm DISGUSTED & OFFENDED by this.

— salz ✨ (@salmadenisee) June 21, 2018
Breaking News: Melania Trump is complicit and is NO VICTIM.

— nic_sr (@aktionjaccson) June 21, 2018
For Melania Trump to say her fashion choice of wearing that jacket doesn't matter is embarrassing. Everybody knows that your fashion choices as a political figure are of importance when making appearances

— 🌼 (@_g0ldengirl_) June 21, 2018
Michelle Obama wanted to feed your kids veggies and inspire them to move, dance & play more AND they called her ghetto.

Melania Trump wears an I REALLY DON'T CARE, DO YOU? jacket in the midst of a humanitarian crisis. Guaranteed Fox News will praise her.

— nicki 🤓 (@nickiknowsnada) June 21, 2018