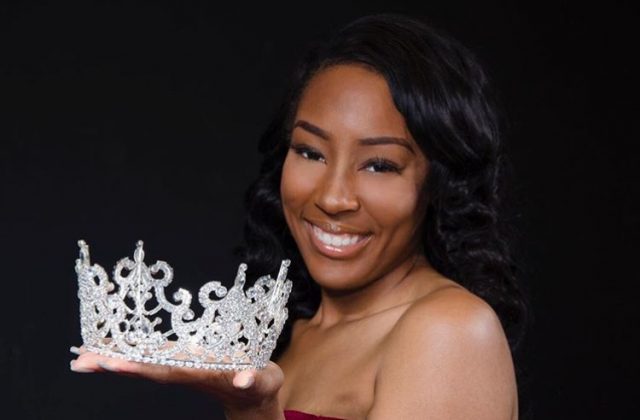 "Being in a pageant is a lot. You have to make sure you have a solid platform because you're representing your city." – Amani Sams
Imagine working as an educator, managing your own publication and preparing for a national beauty pageant dedicated to women of color. Amani Sams is tackling all three. 
Sams, the chief executive officer and editor-in-chief of Aman Magazine, has a strenuous schedule that starts every day at 5 a.m. and does her best to handle all of her endeavors.
"I have learned to master balance," Sams said during a recent interview. "During the week I work full time, and at night I try to write up articles and work on my magazine. Every night and weekend. It never stops." 
Some of the phenomenal women gracing the cover of Aman magazine have included Ariel Anderson and Kierra Douglas, sisters and stars on the E! reality series "WAGS Atlanta",  and their castmate Hope Wiseman. 
Sams also created two other publications: Aman Magazine Latina and Teen Aman Magazine. "Aman Magazine Latina is in Spanish, and Teen Aman Magazine highlights opportunities for scholarships, the college experience, and any other topics related to school," she said.
The bi-monthly publication, which Sams began publishing in the summer of 2016, currently reaches between 2,000 to 3,000 people through an email newsletter with a link to the latest issue. It continues to provide trendsetting, truthful and impactful news and the latest on various topics for women of color in Atlanta. Sams plans to release her next two covers in August.
Her journey to education led Sams to find her platform while competing in pageants. While attending Georgia Gwinnett College, she would write for publications, such as PeachStateSports.com and TrialsnTresses.com.
"Before I became a teacher, I would write for several different publications, and while in college, I was taking an elective and decided to work with kids. I fell in love with their personalities. Since graduating, I've been teaching pre-K for about four years," Sams said.
She plans to focus on childhood literacy for her pageant platform. Winning the title of Miss Black Lawrenceville US Ambassador 2016 and Miss Black Lawrenceville USA 2017 helped push her purpose and passion.  
"Being a pageant girl, you have to have a platform. Therefore, I'm an ambassador of change. I will go into my community and work to implement things I'm passionate about. I focused on childhood literacy because I'm a teacher," Sams said. "I would go to various schools and read to the students. I partnered up with Sandra Deal, wife of Governor Nathan Deal, whose platform is also childhood literacy." 
Sams will represent Georgia at the 50th Anniversary Miss Black America Pageant Aug. 18 in Kansas City, Missouri.
At times, Sams may or may not use her pageant history to leverage her publication.
"Sometimes pageantry has a bad rep, and at times people see the glitz and the glamour. They don't see what goes on behind the scenes to prepare for these pageants, such as having to meet deadlines," Sams said.
As she prepares to run as a delegate for the Miss Black America pageant, Sams says she has received tremendous support from her family and friends.
"They seem excited because this is the national pageant," she said. "I'm not just representing Lawrenceville, but the state of Georgia.