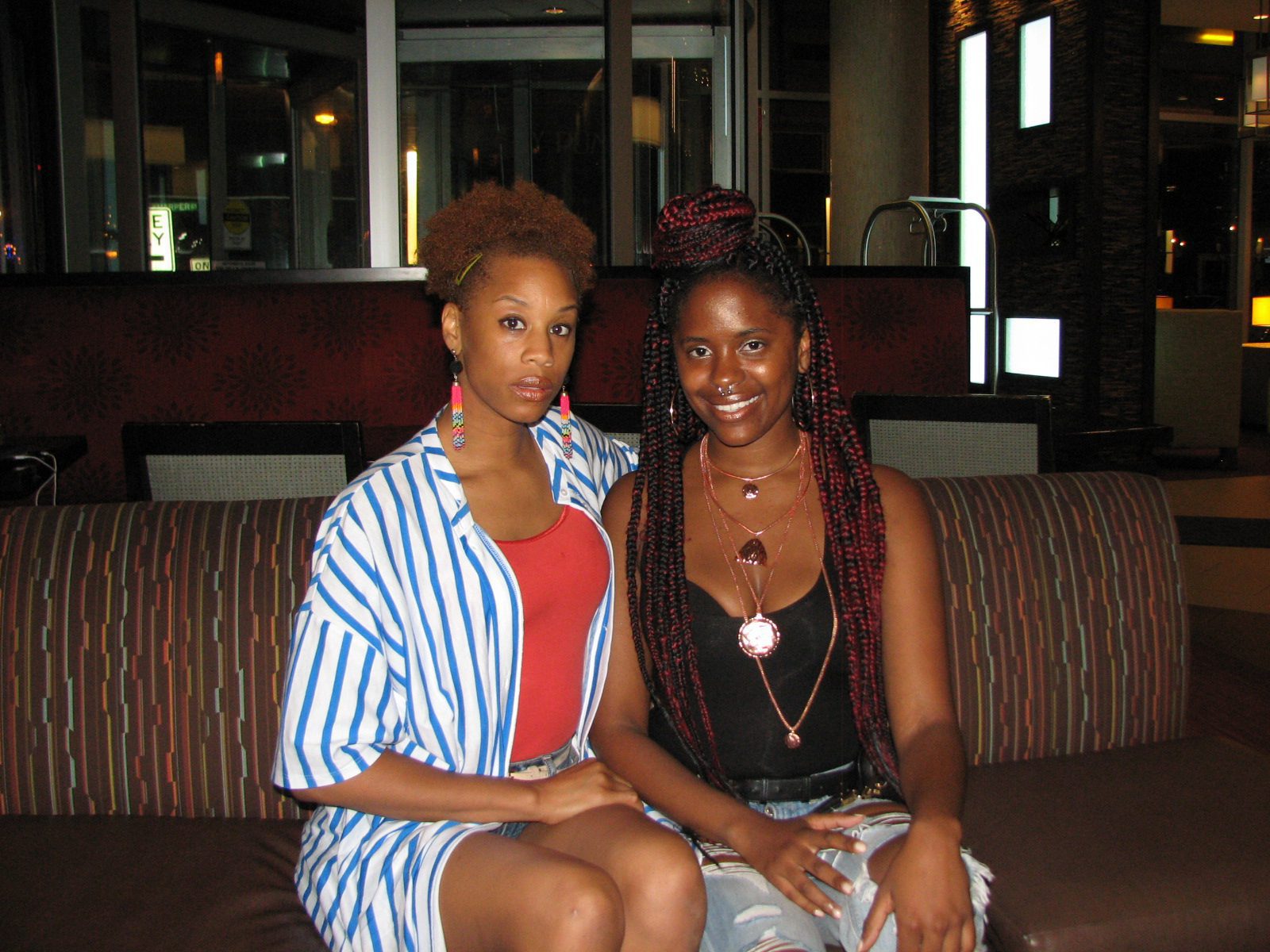 Tonysha Nelson and Patavian Lewis could be considered P-Funk royalty. The granddaughters of P-Funk superstar George Clinton are known as Kandy Apple Redd. Nelson spent her formative and teen years in the Washington, D.C.-Maryland area. Lewis was born in Los Angeles and spent her youth on the family farm in Brooklyn, Michigan. It wasn't until later in life that they truly understood the cultural significance of their legendary clan while traveling the world and seeing the fans clamoring for more. The duo was in town for the Taste of Chicago to promote their forthcoming debut EP, KAR's Comin'.
What is it like having George Clinton as a grandfather?
Lewis: Granddad is super fun. He is actually not how most people would think. He's super chill. He likes to paint, fish and, of course, make music in his studio.
Did coming together to perform musically happen organically?
Nelson: Yes. We've been singing together since we were kids. We came up with our first dream group called Essence around the ages 10 (Patavian) and 6 (Tonysha). Since we grew up together, when we finally decided to pursue music professionally, singing with each other came naturally.
You are both parents. How have you struck a balance between performing and motherhood?
Lewis: Although it's a challenge juggling motherhood and being a traveling musician, being a mom is the most rewarding job we could ever have. FaceTime has made communication so much easier. Also, when we have breaks in between tours, we touch down and hit the ground running in mommy mode: homework, parent-teacher conferences, and afterschool activities. As much as we enjoy the road, we love being moms, too.
How did you come up with the name?
Nelson: The way we came up with our name Kandy Apple Redd is very funny. We actually wanted to be called Model Citizenz. But it was taken when we tried to register it. So we went back to the drawing board and thought about a name. Michael Clip Payne came to us first with Kandy Apple Redd and he loved it. Mind you, when we were first presented with it, we didn't like it and thought it was too risqué. But after some careful consideration, we fell in love with the name.
Tell me about your music and the first single, "This Club"?
Nelson: Our single "This Club" was produced and written by Patavian's brother, Tra'zae Lewis Clinton. The best way to describe it is energetic, but also very smooth [and] sexy. It's definitely something people can relate to. I mean, everyone loves the club.
Growing up, besides the P-Funk influence, are there other music or musical groups you like?
Nelson: Patavian and I have very similar musical influences. We love TLC, Joi Gilliam, Toni Braxton, just to name a few. Where the road splits is when Patavian cuts on the Dave Mathews Band and I cut on The Carpenters. That's when we are a world part.