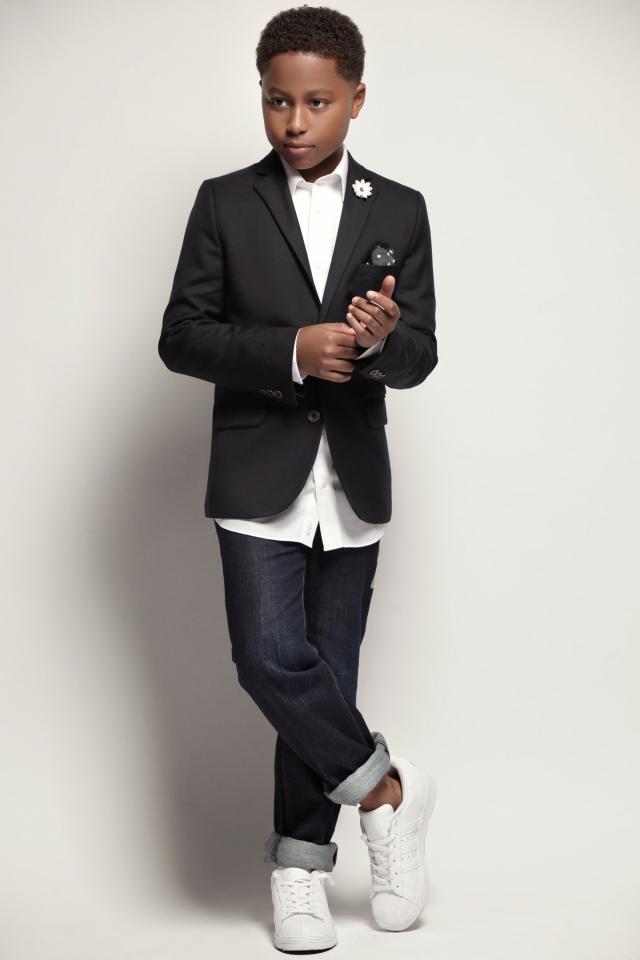 Eli White, aka E L I, is a professional instrumentalist. The Prince George's County, Maryland, native is only 14-years-old and has the wisdom of a man twice his age. He started playing the drums at age 2 and by the time he turned 10, E L I had begun singing and playing the piano. He's added playing the guitar, producing and songwriting to his musical wheelhouse because he believes being a well-rounded musician is important.
A student at Benjamin D. Foulois Creative and Performing Arts Academy where he is a drum major currently serves as the lead drummer at New Hope Baptist Church in Forestville, Maryland.
Read what he has to say.
When did you know being a musician was your calling?
I knew being a musician and vocalist was my calling around 8 years old. I started singing more often at school events and my church choir. I also focused more on playing different instruments.
What inspires you to perform?
I'm inspired to perform knowing that every time I step on stage I'm connecting with my audience and working to inspire others who have never seen me before.
What instruments do you play?
I play piano, drums, guitar, bass guitar, ukulele and my voice is an instrument too.
Describe your brand of music.
Mostly R&B fused with pop, but I'm known to touch several genres depending on how I feel.
When on stage, what do you wish to convey about your style?
I always want to convey that my music reflects what's my heart and soul and that God created me to create music, play instruments, sing and dance.
Name musicians who have influenced your approach to being a musician.
Prince, Bruno Mars and anybody who played with the great Michael Jackson
Describe your creative process from concept to complete song.
My process when creating a song is mostly natural and begins with me writing lyrics down in my iPhone notes that are inspired by my real life situations or thoughts that come when I have quiet time, then I hit record. Also, as a musician, I go different places in my mind that also sets the mood and melody of a song.
How do you select your creative partners to fashion your musical voice?
Mostly, with vocal coaches, artists I study on YouTube and other talents I collaborate with.
What advice about publishing and management would you give anyone who's preparing to enter the music business?
Make sure you learn the business of music and always have great advisors on your team that have your best interest in managing your career. Review and handle all aspects of your business including publishing. without being emotional. Be honest with your team, whether it's good or bad and try to resolve everything with a positive attitude.
If you were going to sing for a famous person during a celebration for what they have done for humanity who would it be?
Chance The Rapper for his major contributions to his city's school system, charities he donates his music proceeds to and the fact that he is a power independent artist that is now a Grammy Award-winning artist.
What are the effects on society that you like the results of listening to your music?
To always be inspired and or uplifted.
If you could go outside the USA to write and produce music, what country would it be and why?
Any Caribbean Island because of their dope feel-good vibes and percussions
Name three current hitmakers you'd like to record with.
Bruno Mars, Cardi B and Kendrick Lamar
If you could record a duet with someone, who would it be and why?
SZA, because I like the tone of her voice and Beyoncé, what's not to love about working with her.
When I hit the stage I'm…joyful and honored.
When the crowd responds to my music I know … I'm connecting with them directly.
I appreciate my fans because … without them, I wouldn't be where I am and where I'm going.
Music is my calling because … it's what I feel in my heart and soul.
My method of studying music is … with my instructors and directors, current artists who consistently win and the great music legends I stream on YouTube.
When you find my music I want you to … feel love, inspired to have great relationships and chasing your dreams.
I enjoy reading … articles online about world news and current events.