While the worldwide Catholic Church is rocked to its core with yet another monstrous-sized sex and pedophile scandal, this time in Pennsylvania, the Black community is incensed after seeing a viral video of a Catholic school girl sobbing while being expelled from school for having what school officials referred as "unnatural" braids.
Officials at Christ The King are under siege for telling a middle schooler that her "extensions," aka braids, were not within their acceptable codes. The Catholic school, located in Terrytown, Louisiana, serves students from pre-K through seventh grade.
According to WGNO, school administrators confirmed that they sent the girl home and said it is school policy for students to have only "natural" hair. The school reports that parents were aware of this policy before the start of classes.
The school mentioned it informed the student and her mother that the previous hairstyle was not in compliance, "and she agreed to change her child's hair in order to comply with the policy."
When the child returned to school, however, school officials were still dissatisfied, and a video of the little girl crying was taken. Subsequently, the girl was sent home again. Administrators are adamant that this time they didn't expel the child, but the girl's mother made a decision to pull her out of the school.
"She made an appointment with a hair stylist to do so. The child had her hair redone on Friday of last week and reported to school today," said Archdiocese Catholic Schools Superintendent RaeNell Billiot Houston, according to WGNO. "The new hairstyle was still not in compliance with the new hairstyle policy. At that point, the parent made the decision to remove her child from the school."
In the video, the girl is sporting a simple, pulled-back and age-appropriate braided hairstyle, but the administrators said it was not in compliance.
Ironically — and fortuitously for the girl's sake — the unnamed schoolgirl is the niece of "Love & Hip Hop Atlanta" star Tokyo Vanity, who posted the heartbreaking video on her Instagram page so that it could receive maximum exposure and subject the Catholic school to intense scrutiny.
"Hi guys this my niece … she was humiliated at school today at Christ The King School … she was pulled out of class amongst several other black girls a suspended for hair extensions," Vanity wrote on her IG page.
https://www.instagram.com/p/BmtTAhqHBbb/?utm_source=ig_embed&utm_campaign=embed_loading_state_control
Renowned Black columnist Shaun King, the former New York Daily News scribe who is now with the Harvard University-based Fair Punishment Project, tore the school by posting the episode on his Twitter page. That incited a venomous backlash on a national scale and even aroused a response from Dr. Bernice King, the youngest child of Dr. Martin Luther King Jr.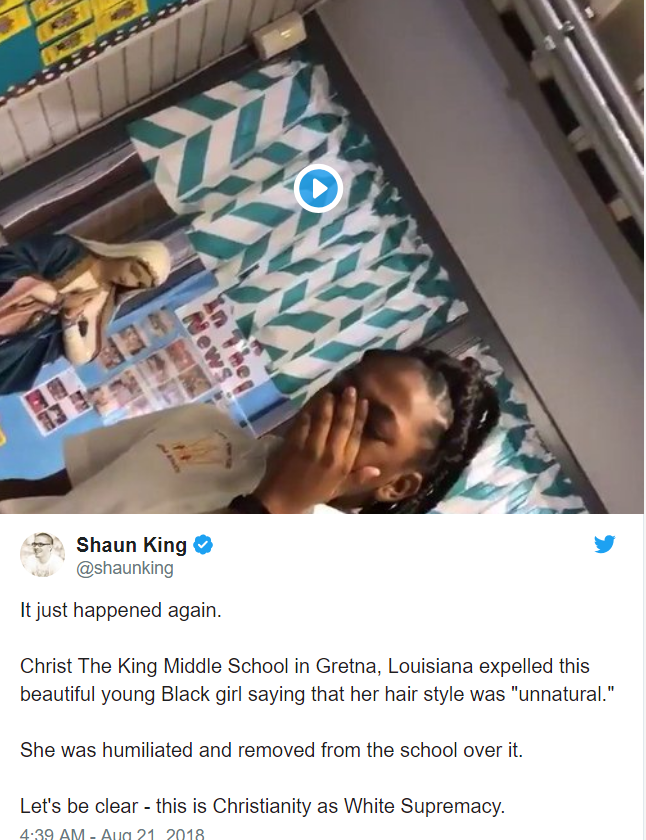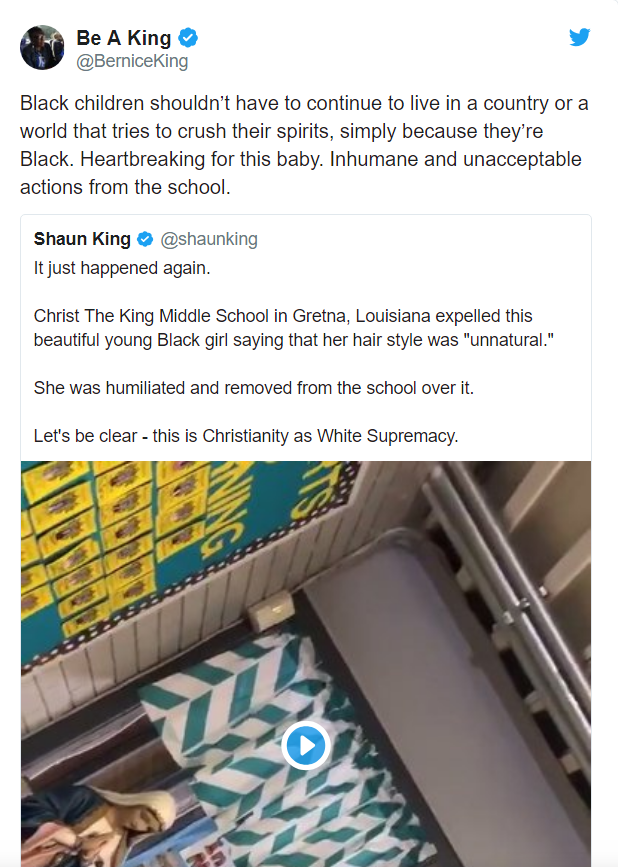 What do you make of the school expelling and humiliating an elementary-age girl because of the hairstyle that's visible in the video? Sound off in the remarks.