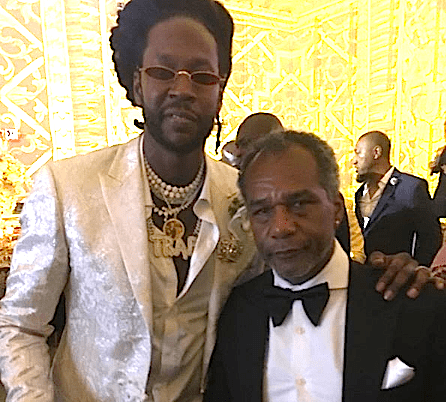 Miguel Wilson has positioned himself as the go-to guy when it comes to men's fashion in hip-hop. With 25 years of experience in the custom clothing business, Wilson has worked with entertainers such as Future, Will Packer, DJ Scream and Trippie Redd, among others. Wilson recently dressed 2 Chainz for his wedding, which took place on Aug. 17.
As the owner of Miguel Wilson Collection at Phipps Plaza in Atlanta, Wilson provides custom clothing and also finds time to give back to the community. With the Atlanta Fashion & Polo Classic, Wilson hopes to expose minority kids to the sport of polo. Taking place on Aug. 26 at Chukkar Farms in Atlanta, the event will feature a VIP brunch, horse clinic, and fashion show.
Wilson recently sat down with rolling out to share his story of becoming a fashion designer, working with entertainers, and hosting the Atlanta Fashion & Polo Classic.
How did you get your start in fashion?
I started out doing custom clothing at 25 years old. This year marks my 25th year of business so I was doing custom clothes making suits for pastors, businesspeople [and] athletes. I always loved clothes. I used to have my suits made for a corporate job and the gentleman who made my suits was a good friend and he offered me the opportunity to work with him. I was able to learn the custom clothing business through him.
How were your first years in the business?
Rough. Initially, I just think it's a transition and I don't know that there can be an easier way to do it. You can prepare yourself as much as possible. I actually worked part-time in the business for seven years before I actually went full-time. You have problems along the way and you just have to continuously figure out how to solve the problems.
What are some style secrets that you can share for men's fashion as we head into fall?
One of the things that I advise my clients on for the fall is to get into different weights of fabric and different textures. A lot of my clients may have a new suit, but they may not have a nice winter weight or flannel. I'm more of a conservative dresser, but I love a great fabric. So it doesn't have to be loud or wild, it just has to be great fabric, feel comfortable and look great. I like to operate in different textures as we go into the Fall season. A lot of guys don't do that because they want year-round clothes. A guy dressed in the season will always look better than a guy in a year-round suit. So it would be my advice that you get a couple of pieces specifically for the fall and winter, particularly when it pertains to sports coats and slacks and suits.
Why was it important for you to host the Atlanta Fashion & Polo Classic?
The Atlanta Fashion & Polo Classic is something I created for several reasons. As a kid growing up in Washington, D.C., I did not have the access to ride horses.  I read a lot of books and those books really helped me to understand what life was like on a farm. Once I was [financially] able, I would leave the city and drive to the country where there were trees and horses. I literally felt the stress leave my body. Learning how to ride a horse was one of those things that exposed me to another way of life and people. I think that a lot of kids could benefit from that same type of exposure. So one of my biggest motivations was to have inner city kids exposed to the sport of polo with the hopes that I can develop a team of kids to ride and compete.
The Atlanta Fashion & Polo Classic takes place on Aug. 26 at Chukkar Farms in Atlanta from 2 p.m.-8 p.m.