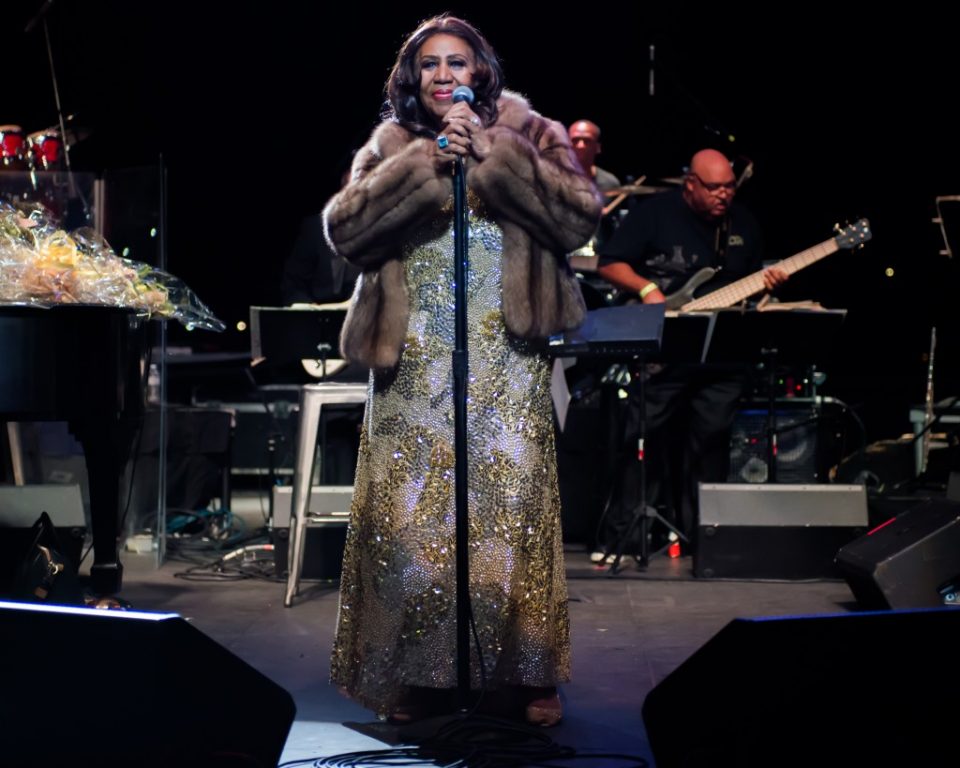 More than 40 performance artists will salute the life and legacy of the Queen of Soul, Aretha Louise Franklin, during A People's Tribute to the Queen at Detroit's Chene Park Amphitheatre on Thursday, Aug. 30, 2018, 6-9 p.m. EST.  The musical tribute is produced by Entertainments Finest.
Leading artists representing the R&B, gospel, jazz and blues genres will share
their talent. The program includes:
Jazz and Blues
Tribute with Ralphe Armstrong, Franklin's bassist and
longtime friend, as musical director. Along with performances from Joan Belgrave, Doug Carn, Jean Carne, Detroit's Thornetta Davis and Dee Dee Bridgewater.
Visual montages presented throughout the event. Artist Demont Pinder
will create a signature portrait on stage during the event.
A dance choreographed by George Faison, paying homage to the Queen.
R&B tribute
Detroit's Kern Brantley as musical director. Brantley, who led a tribute for Franklin during Detroit Music Weekend in 2017, has served as musical director for seminal artists such as Lady Gaga and Beyoncé. Narada Michael Walden will perform "Freeway of Love," a song he penned for Franklin. Performances from Detroit
artists: Cherri Black, Steffanie Christi'an, Angela Davis, Gwen Foxx,
Beth Griffith-Manley, Kimmie Horne, KIKO, Alise King, L'Renee and Tasha
Page-Lockhart. Ronnie McNeir will perform the song he wrote for the upcoming
Franklin biopic.
Franklin's second oldest son, Eddie, and her granddaughters, Gracie and Victorie Franklin, will render a special tribute.
Gospel tribute
Composer Kurt Carr and Detroit organist Derrick Starks as musical directors. Performances from: Santita Jackson, Dr. Bobby Jones, Lisa McCaw dancers, Tasha Page-Lockhart, Kierra (KiKi) Sheard and Kathy Taylor.
Tyler Perry will introduce actress Jenifer Lewis, who will perform a piece written for the queen. Remarks will be delivered by Judge Greg Mathis and actress Erica Peeples. Shahida Mausi, president of the Right Productions who manages Chene Park and has known Franklin for decades, will provide special acknowledgements.
All-star tribute
Kern Brantley as musical director. Performances from:
Regina Belle, Raheem DeVaughn, Johnny Gill, Dave Hollister, L.J. Reynolds,
Angie Stone, Tweet, Detroit's Keith Washington and the Four Tops.
The "Respect" finale will feature all the participants. A bevy of dignitaries, leaders and hosts will attend and join in the program. The participant list is subject to change.
Suggested attire for attendees is white, in celebration of the queen. Tickets to the free, public event sold out online within minutes of their 10:00 a.m. release on Monday, Aug. 27. Ticketmaster waived service fees in honor of the Queen.
The musical tribute is part of a multi-day celebration of the queen's life and
career. A gospel tribute was held Monday, Aug. 27 at New Bethel
Baptist Church in Detroit. Thousands will gather for the public viewing of her body, as it lies in repose at the Charles H. Wright Museum of African American History, Tuesday, Aug. 28 and Wednesday, Aug. 29. Some fans came from as far away as Amsterdam. Transported to the museum in a vintage 1940 white Cadillac La Salle hearse, she is ensconced in a 48-ounce polished bronze casket with 14-karat gold-plated hardware. The historic vehicle also carried her father Rev. C.L. Franklin and Rosa Parks. Her casket is the same model in which Michael Jackson was buried.
A private, invitation-only funeral for close family and friends will be held August 31 at Greater Grace Temple in Detroit. Performers for that service include Stevie Wonder, Jennifer Hudson, Chaka Khan and Ariana Grande.
Franklin died on August 16 in her Detroit home after battling pancreatic cancer.
Visit Chene Park's website, cheneparkdetroit.com, for updates, broadcast and live-streaming information on A People's Tribute to the Queen.