An Asian proprietor who sells Black hair care products, but disrespects Black patrons and even punched a Black woman in the face, is still getting long lines out the door to get into his store.
The owner, Changseok Jun of Anna & Jun's Beauty Supply Store in Tulsa, Oklahoma, was captured on camera assaulting a Black mother in front of her two young kids just a week ago.
Jun followed customer April Harding out of the store when her 3-year-old son allegedly pocketed a .99-cent key chain as they left the store, station News On 6 reported. In the video, you can see the mother walking away, and Jun follows her. When she puts her hand out to push him away from her, he punches her in the face and then walks away as if he did nothing wrong. The assault left Harding with a busted lip that required three stitches.
https://www.youtube.com/watch?v=7mJIKCokX1w
Yet, a week later, Jun has Black women forming a line outside of his store. The Black women even waited outside willingly, as the store owner only allows a certain number of customers in at a time.
Most found the original video repulsive and rage-inducing and can't understand how so many Black women still patronize that store.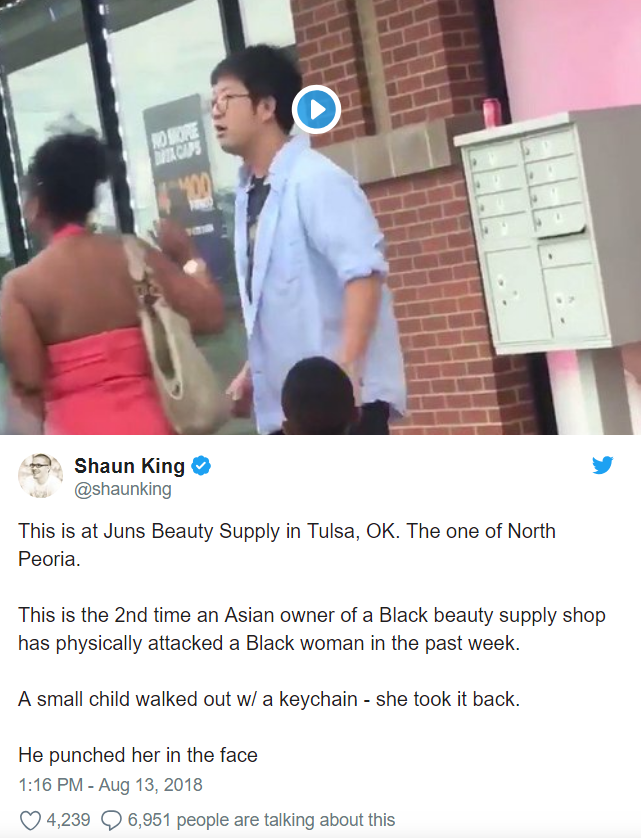 According to Blavity.com, since the airing of the video, police have charged Jun with misdemeanor assault and battery. He has a scheduled court appearance on September 12.
Protests have been staged outside of Jun's store since the episode. "For [Jun] to hit her is unacceptable," Cleo Harris, an organizer of the protest, told the Tulsa World outside the store, which was closed for much of Monday. "You're taking the Black dollar, but you don't trust us coming in to buy your product that is a creation of us."
Since the public backlash and protests, Jun has initiated measures to save his business.
Jun is now offering a 50 percent off sale that attracted a crowd outside of the store, according to blogger Tariqelite:
Tariqelite captioned the video with this: "An Asian man who owns Jun's Beauty Supply in #Tulsa #Oklahoma was caught on video punching a Black female customer in the face and giving her a bloody nose. Locals say this store owner has a history of violence against Black female customers. So Black men started protesting outside of the store, in an effort to shut him down. The owner announced a 50% of sale on the products, and now there is a line of Black females customers outside of his store trying to get in. And some of them even started arguing AGAINST the Black male protesters.
"Is it really that serious to get hair products from these people? Are bundles more important than dignity? Are we willing to get socked in the face for a lace front? Is it this hard for us to get on code?."
What do you make of the Black women who line up at the same store where another Black woman was punched in the face by the owner?