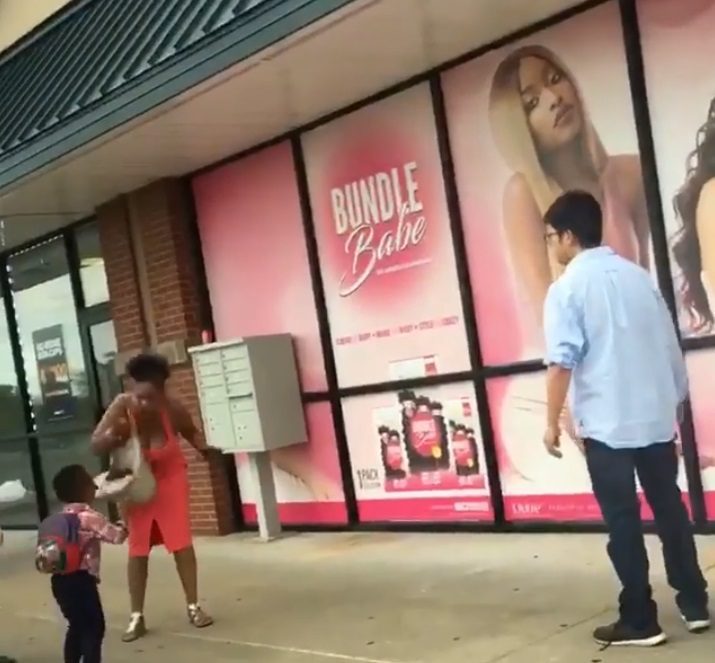 An Asian man was recently arrested for brutally punching a Black woman in the face after she was shopping at his store. The incident occurred at Anna & Jun's Beauty Supply in Tulsa, Oklahoma.
April Harding, a hairstylist, often shopped at the beauty supply store for her business. At some point, her 3-year-old son grabbed a 99 cent keychain without her knowledge. When she noticed that the toddler had the keychain in his hand, Harding grabbed it and threw the item back into the store.
The owner of the store, Changseok Jun, confronted Harding and began arguing with her. The argument was captured on video by Issa Tata, who uploaded the clip to Facebook. During the argument, Jun grabbed Harding's arm and punched her in the mouth, causing her lip to bleed.
Following the incident, she was rushed to the hospital where she received three stitches on her upper lip. When police arrived, they did not arrest Jun or take him to jail.
Once the video of Jun hitting Harding went viral on Facebook, the police revealed that they charged Jun with assault and battery. He will likely only have to face community service or a fine.
There have been several protests by Black activists at the store following the release of the video.
"That was an assault [that occurred] in front of young children," Lauri Newman wrote on Facebook. "Boycott his store! Unite and shut his businesses down!"
Lee Vang, another Facebook user, wrote, "I don't understand why Blacks don't open their own stores instead of supporting these Koreans. Weave and hair extensions are a multi-billion dollar industry. Quit supporting these shops with your money and support your own."
The relationships between Asian store owners and Black customers has been shaky over the past weeks. Racial tensions were high in Brooklyn, New York, after several Black women were beaten by Asian owners of a nail salon. A woman paid for her feet and nails after they were done but was upset about a $5 eyebrow wax job and refused to pay for that particular service. The Asian workers surrounded the woman and two other Black women and began beating them with what appeared to be either metal rods or broomsticks. When police arrived at the scene, employee Huiyue Zheng, 32, and customer Christina Thomas, 21, were busted on a variety of charges, including misdemeanor assault, harassment and menacing.
In Harding's case, she has the option to sue Jun for the pain that he inflicted.