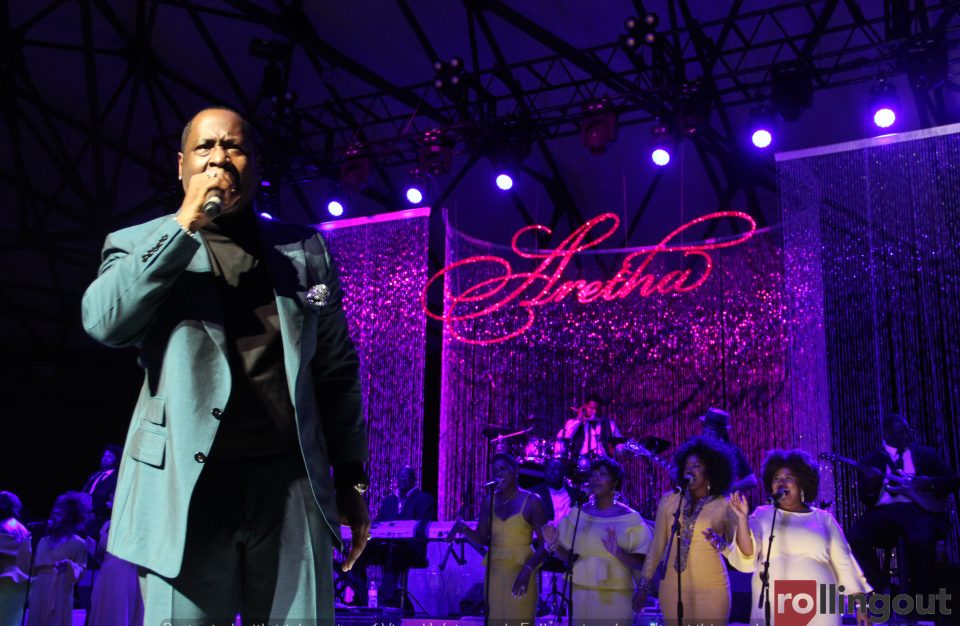 The line outside of Chene Park stretched down the block of Atwater Street hours before doors would eventually open at the outdoor arena in downtown Detroit. A multitude of people in line wore T-shirts featuring images of Aretha Franklin. Several cars that drove by blasted hits from her massive catalog, the ultimate sign of putting respect on her name. More than 6,000 people quickly filled the arena, which overlooks the Detroit River to pay homage to their hometown hero who also just happens to be the "Queen of Soul."
Franklin may have left the world in the physical form on August 16, but her legacy remains alive. To honor that legacy, celebrities, musicians and activists paid tribute to Franklin with a show that lasted for nearly six hours.
Some of the most notable figures in attendance included Jesse Jackson, Louis Farrakhan, Tyler Perry, Jennifer Lewis, Regina Belle, Johnny Gill, Angie Stone, The Four Tops, Keith Washington and Raheem DeVaughn.
The night ended with an astounding performance of "Respect" that featured nearly every artist who graced the stage during the evening.
In a span of one show, concertgoers went to church and the nightclub; they were able to witness the beauty of falling in love and fighting back when the sweetness of love turned sour due to a lack of respect. Franklin presented her world to the world with lyrics and music that articulated the truth about the human condition. In turn, her story became our story.
Aretha Franklin's homegoing service will take place at 10 a.m. Friday, Aug. 31, at Greater Grace Temple.