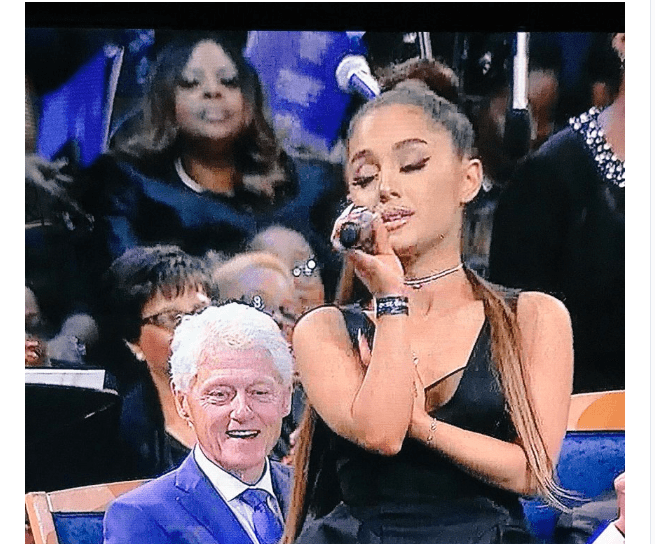 Former President Bill Clinton was beset with a reputation for sexual perversion and womanizing since before his days as governor of Arkansas. And what happened at the funeral of the late, legendary Aretha Franklin did little to alter Clinton's image as a lustful, leering dirty uncle.
Social media erupted at a video of Clinton looking intently at pop star Ariana Grande as she took command of the pulpit on Friday, Aug. 31.
Grande was singing one of Franklin's biggest and most timeless hits "(You Make Me Feel Like A) Natural Woman." But social media noticed quickly that Clinton was paying much more attention Grande's body than her vocals.
Social media users criticized the former president as "gross" after his eyes appeared to wander onto Grande's derriere.
One user said: "Gross..watch Bill Clinton look Ariana Grande up and down when she sings at #ArethaFranklinFuneral and try not to throw up in your mouth."
Another wrote: "Bill Clinton is REALLY big fan of Ariana Grande."
Like Sippi said: "Bill Clinton just fell in love with Ariana Grande."
Other social media users, however, defended Clinton as one Twitter user wrote: "How can you possibly tell where he is looking?"
In addition to Clinton, Franklin's funeral was attended by a host of other influential figures, including prominent civil rights activists Jesse Jackson and Al Sharpton, Minister Louis Farrakhan, Detroit b-ball legend Isiah Thomas, Motown icons Stevie Wonder, Gladys Knight and Smokey Robinson and Oscar-winning actress Whoopi Goldberg.
Franklin's public funeral took place at Detroit's Greater Grace Temple, capping days of mourning for the venerated vocalist, who passed away from pancreatic cancer on Aug. 16.
Clinton also spoke at Franklin's funeral, but some internet users were more interested in discussing how he looked at Grande. Clinton, of course, was one of the few presidents to ever be impeached (even Richard Nixon resigned before being impeached) after he was caught lying about having an affair with White House intern Monica Lewinsky in the 1990s.
That's what prompted responses on Twitter, including one user who wrote, "Please keep Bill Clinton away from Ariana Grande."
Check out some of the other comment about the episode that had Twitter simultaneously laughing hysterically and recoiling in disgust.