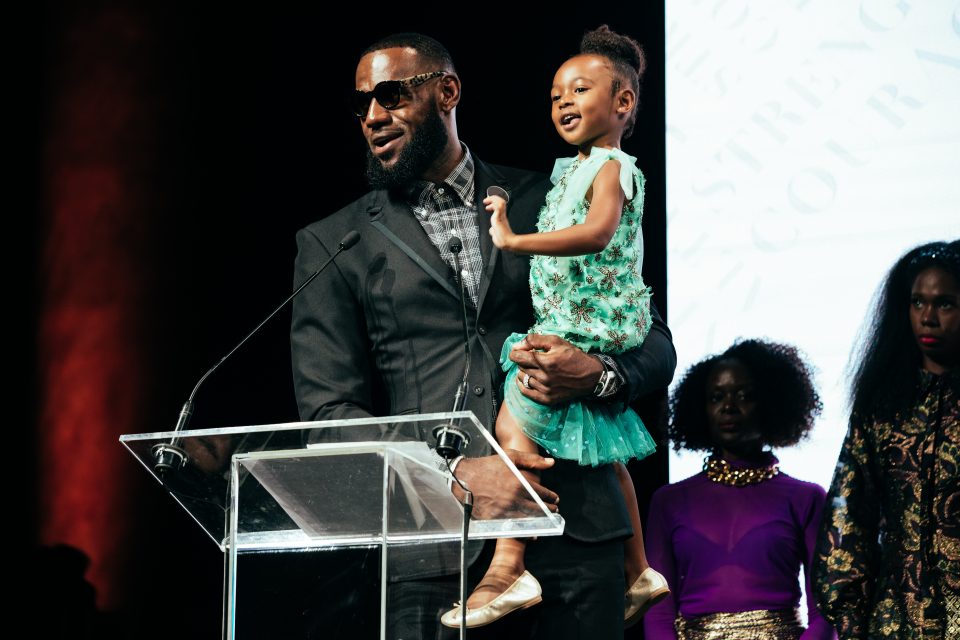 LeBron James kicked off 2018 New York Fashion Week with a bang.
On Tuesday, Sept. 4, Harlem's Fashion Row (HFR) held its annual Style Awards and Fashion Show. The event was hosted at Capitale in Manhattan in partnership with Nike. The night began with emerging designers featuring their new collections, followed by an awards ceremony that recognized Jason Rembert (as stylist of the year), model and fashion activist Bethann Hardison (recipient of the Iconic Trailblazer Award), Dapper Dan (recipient of the Maverick Award).
The highlight of the evening was LeBron James being presented with the ICON 360 Award. The NBA all-star was honored for his fashion-forward lifestyle as well as his philanthropic endeavors.
James and the LeBron James Family Foundation opened the "I Promise School" July 30 in his hometown of Akron, Ohio, to help improve the educational outlook for students and provide support for parents.
The MVP came to the stage in sunglasses and a dark-colored short suit carrying his daughter Zhuri in his arms. During his acceptance speech, James highlighted the strength of African American women and paid homage to his daughter Zhuri, wife Savannah, and mother Gloria Marie James.
Not only was James honored with the ICON 360 Award, but Harlem's Fashion Row CEO Brandice Henderson-Daniel also revealed that the NBA player collaborated with three of the organization's designers — Kimberly Goldson, Fe Noel and Undra Celeste — for his first-ever women's basketball shoe.
James told Vogue about the inspiration behind his new footwear. "I believe that African American women are some of the strongest people on earth," he said. "I grew up around incredibly strong women and continue to be inspired by the female strength I see around me, mainly in my mom, wife, and daughter. I thought it was important to recognize that strength through this shoe."
The HFR x LeBron 16 sneaker design features a regal colorway, a gold 3D lion and a detachable leather bracelet. The sneakers, which were created for women by women, dropped at 7 a.m. Friday, Sept. 7, and are exclusively available on Nike's SNKRS app in North America and on nike.com.