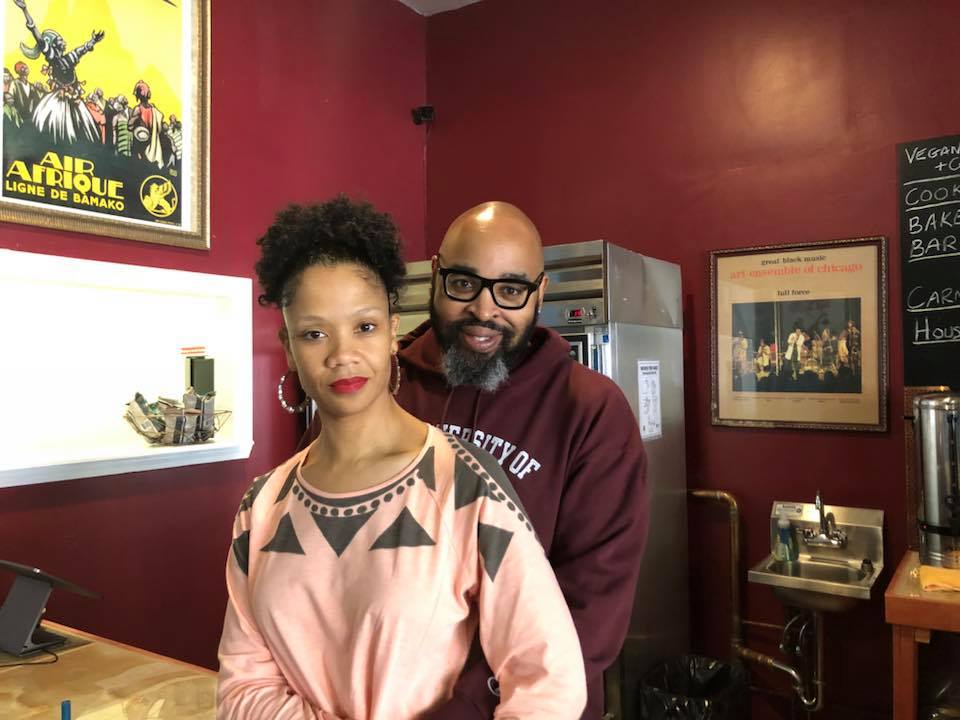 When customers enter the Heritage Café at 1849 East 79th St. in Chicago, they are immediately embraced by the beauty, intelligence, warmth and passion of Black culture: the art on the walls, the books on the shelves, the music in the air, and the conversations between patrons.
Proprietors Dion and Colette Tasker Steele have carefully crafted a café experience to lay the groundwork for transforming the South Shore community into what it once was.
"My wife [Colette Tasker Steele] and I wanted to provide a communal space that offered healthy choices and a place to build with people who wanted to strengthen the community," Dion Steele said. "My wife grew up in this neighborhood, and she has fond memories of when 79th Street was thriving."
Heritage Café is a reflection of the union between Dion and Colette, who met in college nearly 30 years ago. Colette attended the University of Illinois with the goal of becoming a "curator," while her future husband was there majoring in history with dreams of becoming the "Black Indiana Jones." Colette caught Dion's eye, but he was rejected because his initial approach for a relationship with her, as Dion put it, "was not up to her standards."
After college, Colette found solace in film production and painting, while Dion discovered fulfillment in teaching Black history and mentoring Black boys during the day and deejaying at local clubs and bars at night. While deejaying at a club, the two reconnected, and this time Dion's approach met with Colette's approval. Their love led to a marriage and a shared vision of one day opening a lounge that would reflect their devotion to Black culture and community.
Their love for each other and the Black community plays an integral role in their personal lives as well as the food options on the Heritage Café menu. To live the healthiest lives possible, Dion and Colette became vegans. Since this café mirrors their union, all the food choices on the menu are geared toward being a tasty, healthy energy source for Heritage Café customers.
The worst-kept secret in the Black community is that most of the eateries there specialize in salt, sugar and fried food. Those establishments, often owned by someone who is not Black, do not care about the diabetes, hypertension and obesity plaguing the Black community.
Even though Heritage Café has only been open for a few weeks, the positive word-of-mouth reviews have brought politicians and other business people to Dion and Colette's door with so-called "opportunities." However, they are determined not to waver from the vision of the lounge they shared with each other when they fell in love nearly two decades ago.
Dion stresses that "the café is for our community and to be a positive example of what we [Black people] can build for ourselves."
If you are in the South Shore neighborhood in Chicago, visit Heritage Café. You will be greeted with a smile, handshake, hug, or possibly even a high five. Come for the food, the good people, or just to look around. Everyone is welcome and will be treated with love — the same love that built the Heritage Café.