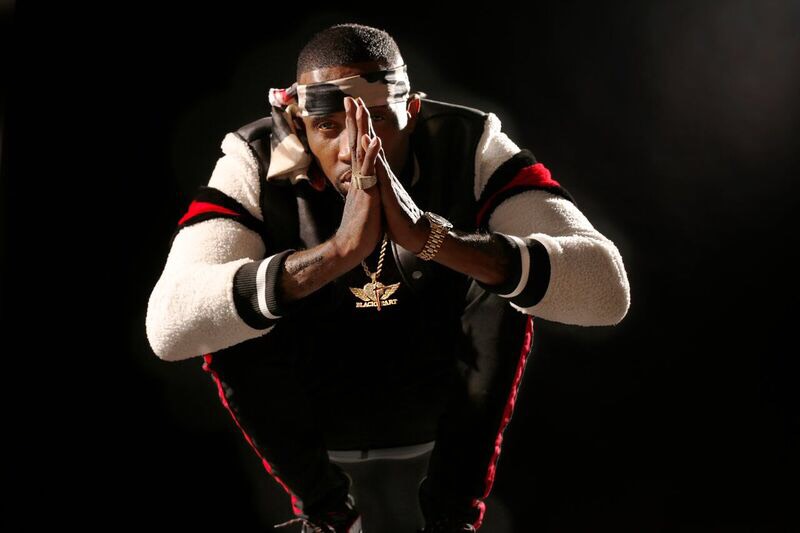 Life has a way of taking us through twists and turns. Yung Gwapa turned his life around after a stint in jail. The Atlanta-based rapper took his talent from the streets to the studio, and has worked with big-name artists such as Migos, Blac Youngsta, Skippa Da Flippa, and Future through word-of-mouth promotion of his rap skills.
Gwapa dropped a huge record titled "Thick Cinderella" before going to jail, and now he is home better than before with a new project, Re-Rock. Yung Gwapa has over 400,000 streams on YouTube and Spotify. In an exclusive interview with rolling out, the Chicago native talks about owning his own label, drug abuse and violence in hip-hop, his history with Lil Durk and more.
Why did you get arrested and how do you think it affected your career?
I did a record called "Molly Talk" with Zaytoven; I had got in trouble after I did that record. That affected my career in a major way because I did get arrested for a gun charge and a friend had drugs in the car that I didn't know about.  
My lawyers moved the situation out due to the drugs not being in my possession. For the case, I only had to do like nine months. After jail, I had the big wake-up call and got educated. It was a big 360 for me, so jail was a bad thing and it was a good thing for my career.
Why do you have an issue with Lil Durk? Do you see that issue ever resolving?
Lil Durk has a chip on his shoulder with me right now because once upon a time, I had a bigger buzz than Lil Durk. One time, he asked me to hop on a record, he wanted me to put my verse on it. I never recorded it, I was kind of stiff on Durk. The song was called "I'm A Hitta."
The song blew up, and it just messed my head up. We would run into each other, and I would be like "jump on this, jump on this." He mentioned one time, 'remember when I asked you to get on that song?' So he was stiff on me because he … passed me up.
It's not any personal beef or nothing like that. I know how he feels about the situation. I feel like things wouldn't smooth out until we were on the same level.
How do you feel about the violence in Chicago? Where do you think it all started and what should people be doing about it?
Chicago's been like this since I was 8 years old. People now know how savage it is up there, 70 people getting shot over the weekend.
So it's not going to take one man, or all these speeches and people coming to the city. That stuff isn't going to work. They've been trying to do that since I was a kid.
How does drill music in Chicago differ from trap music in the South?
With me making my music, people in Chicago would say "you sound like one of them Atlanta cats." In Chicago, before drill, it was just bars or spitting funky knowledge. All that bang bang bang stuff spilled over to Drill music which started with like Chief Keef, so we had our wave. By that time, I had already gone to the South with my music because I was ahead of the time with it.
You're now completely sober. What were you on and how did you get sober?
I was one of them dudes that could go into the studio and do like ten songs in like two to three hours. I was on lean and smoking heavy. I was on molly. It got to a point where I needed lean to rap.  
When I went to jail, I got probation for having the bud in the car, so I couldn't smoke at the time. After two or three months in, the smoke in my mind started clearing up. I had to find a different hobby to replace getting high.
What advice do you have for people trying to sober up?
Ease up and quit, think about your health. It's damaging more than it's helping.
How and why did you find Black Heart Music Group? Who is signed on the label?  
Right now I'm the only artist, I'm signed to myself, but I'm working on having an artist from  Richmond, Virginia. His name is GSAMBO.  His story caught my attention. He was doing 30 years to life for murder, and he was like 17 or 18. 
I had put up a post on Instagram asking the city like, should I sign him? He got like 400 comments in like less than an hour.  I think it's going to be a good look for the company and me.
Let's talk about your new project Re-Rock and "Stiff?" Why did you choose this record after your release from jail?   
"Stiff" just came about with me just going through so much bull crap dealing with people. I'm sure you know how we use the lingo, so I'm stiff on them.
With Re-Rock, it was like, how could I put a project out with a cover that's going to attract attention for these folks? I wanted to call my project re-rock because I put out so much music that didn't get the attention
What new projects are you working on?
I'm trying to get into modeling and trying to start a clothing line. I started Black Heart Sports, a youth football team to get behind the kids and support the youth. I'm trying to launch my energy drink, which is going crazy juice.
I'm working on another movie right now. I want to start shooting in like December, late November. I'm still focusing on music, that's my biggest focus. That's my biggest dream.