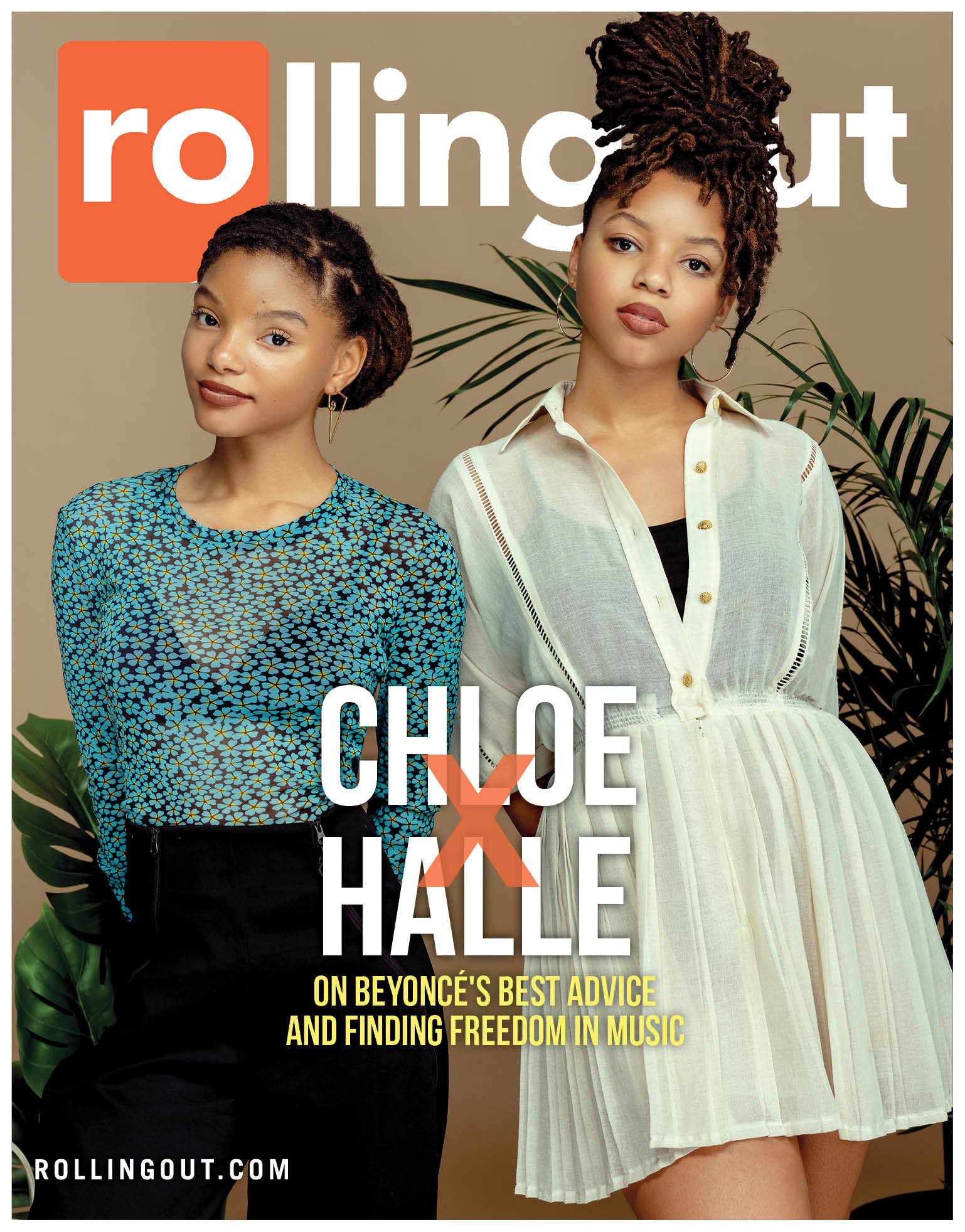 Chloe and Halle were literally on the run. Two weeks before the unofficial end of summer, the duo was preparing to perform three shows in three nights in Atlanta, the city they once called home. The four-hour tour bus drive from Nashville, Tennessee, to Atlanta, provided a brief respite before they hit the ground running with scheduled TV appearances, radio interviews and sound check. That's a normal day in the life of two Generation Z stars who have released a debut album, 
The Kids Are Alright
, who are stars of the hit TV show "Grown-ish," and who happen to be the opening act for two of the biggest entertainers in the world —
Beyoncé and Jay-Z
.
In the midst of their hectic schedule with the epic On the Run II tour, Chloe and Halle took time to visit rolling out studios. Chloe, 20, and Halle, 18, showed no signs of fatigue as they greeted each member of our production team with smiles and hugs as if they were in the presence of family. For the sisterly duo, being in Atlanta is like being around family because it was the place where it all it began. So with the two back on home soil, we decided to pair them with another dynamic female group, St. Beauty. Discovered by Janelle Monae, St. Beauty's Alex Belle and Isis Valentino also represent the new wave of young, Black and soulful women who are the next voices in music.
Following moments of laughter and catching up on old times, both groups sat down to discuss music, womanhood, community activism and receiving guidance from powerful female artists such as Janelle Monae and Beyoncé.
Isis: How are y'all doing?
Chloe: So good. Happy to be back in Atlanta. Good to see you guys. You look so gorgeous.
Isis:  Thank you! I think it's really cool that we're both duos and from here. How was your life growing up in Atlanta?
Chloe: Atlanta was a pretty special place for us growing up. It was like [the] playground for our imagination. I remember my sister and I loved to be in front of the camera. My very first audition was for this movie Fighting Temptations. I was like 3 or 4, and that's when I met Beyoncé because I played the younger version of her. From there, we began singing.
Halle: We would always be around singing, and people would tell us as we got older that we should post YouTube covers. We just loved "The Best Thing I Never Had" by Beyoncé. We just couldn't stop singing it. So we recorded ourselves singing it, and we posted it. I remember the first 100 views, and we were excited. It eventually reached over 10,000,  and we were like, "What's going on here?"
Chloe: From there, we just grew a beautiful fan base and got the attention of Ms. Queen Bey again, and it was awesome.
Alex: What would you guys say is your favorite thing about being a duo?
Chloe: My favorite thing about working with my sister is that we read each other's minds. It's crazy because we're not twins, although most people think that we are twins. We have that twin mentality. We finish each other's sentences, and she knows my thoughts. At the same time, we are the complete opposite of each other. I'm the Cancer; she's the Aries. I'm the sensitive one who cries all the time, and she's the Aries who's headstrong and knows what she wants. We both bring different perspectives to the table, which creates a beautiful synergy.
Isis: Being around Beyoncé, what kind of advice has she given you guys about navigating through this industry?
Halle: One thing we absolutely love about Beyoncé is she allows us to have creative freedom. We find that really fascinating because some artists are pigeonholed. So we were really grateful for that opportunity just to really shine. One of the things she told us was "let the world catch up to you, don't dumb down yourself for the world." We make music that doesn't really sound like mainstream music. It's just a combination of our favorite things, and it's kind of a fusion. We just aim to make different music because that's what makes us happy, and hopefully we'll be cool in the future.
Alex: How would you describe your style of music?
Chloe: We call it confetti. We love harmonies, and I remember our very first EP. We called it Sugar Symphony because we feel that's how our music is — very harmonious — and we love the heavy beats and 808 drums that come together like a symphony.
Halle: For me personally, I'm a huge jazz fan. I used to study Billie Holiday and jazz melodies. I love how classic they are and just that love that you feel when you listen to [them].  Chloe is an amazing producer, so she throws hard-ass beats — which are super cool — then our harmonies bring it together.
Isis: I think it's important to be involved in what's going on in the world. One of the things that I noticed happened recently was that there were kids who were kicked out of school for wearing braids and locks. What are your thoughts on us not being able to be ourselves in certain environments?
Chloe: Whenever I hear things like that, it breaks my heart. People don't realize how important it is for you to believe in yourself. That will reflect in what you do in life. If you tell [a] little girl she can't wear her locks, she starts worrying about her self-esteem. [She wonders], "Am I pretty enough? Does the world not accept me?" Then she starts looking in the mirror. It's a trickle-down effect. Equality is important to me. We're all human beings. It's not up to us to judge how someone chooses to live their life."
Halle: I'm grateful to be a part of this generation. The weight of the world is on our shoulders. Our peers are taking this negativity and turning things into positivity. We've had natural hair since [we were] 5 years old. It's good that we are able to say, "I love this about myself."
Chloe: Things like the March For Our Lives [organization] and Women's March make you feel the unity of us coming together saying enough is enough. It's more than a hashtag and tweeting about it. We make a difference in numbers. We all stem from one, so it's a pretty special time right now. I love that women can lift each other up. [Music is] a male-dominated industry. I'm happy to be sitting here with you guys. There are so many amazing women like Yara Shahidi and Zendaya. I'm happy to be in this time where we are not afraid to uplift each other.
Halle: How does it feel to work with Janelle Monae?
Isis: She's so fearless. When I first saw her perform, she was doing things on stage I never saw anyone else do. It's amazing to work with her. She also allows us to be who we are. I'm grateful to be in Atlanta knowing all of that was going on here. We were on tour with her recently, and her show was amazing.
Alex: I first met Janelle when I was 16 in a Target parking lot. Fast-forward three years, Isis and I met while working at a vintage boutique. Janelle discovered us at a show. It felt like all of the dots got connected.
Alex: What advice would you give to young women?
Halle: Confidence is something that I'm still trying to have within myself more. I have to trust the gift that God has given me. I'm so grateful for my voice, but sometimes I downplay myself and I'm not as confident. My sister and Beyoncé help to pick me up. For any young woman coming up, believe in your talent because it's there. Smile because it's there.
Words by  A.R. Shaw
Photos by DeWayne Rogers
Interview by St. Beauty