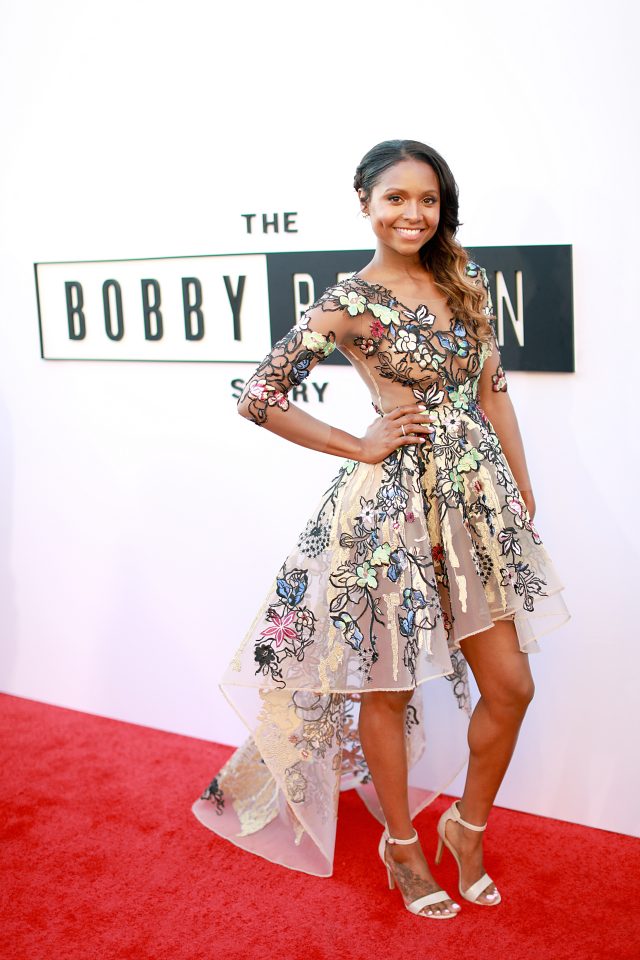 The Bobby Brown Story had Black Twitter buzzing during the premiere on Sept. 4-5. Millions of viewers tuned in to see Bobby Brown tell his story. Brown and musical icon Janet Jackson's relationship was a major theme in the film. Those who aren't familiar with Brown's story were shocked that Brown and Jackson were in a relationship — at least, according to the King of R&B. Atlanta-based actress, singer and philanthropist Cree Davis plays Jackson in the film.
Here, Davis details how she got the role and talks about her philanthropy work, and her new album, Love Levels.
What was the process like of getting the role of Janet Jackson? What did you like the most about playing the role?
I went in for Whitney Houston first, and they liked me for Whitney Houston. I got a callback, but then the next callback, they wanted to see me for Janet Jackson. I was told the casting director liked me as Whitney, but they thought I looked like Janet. I went in, and I had the whole Janet getup. My aura was Janet. My energy was Janet. I had done some research and character preparation before going into that callback.
What did you like most about playing an icon like Janet Jackson?
I enjoyed the character work, the preparation. It's always fun as an actress being able to be vulnerable, to kind of put yourself to the side and enjoy acting as someone else. It can be a task; it's time-consuming but necessary to be able to do a great job.
I'm portraying a character, especially a living icon, [and] that prep work is necessary. I watched all her movies and her videos even though I didn't sing and dance in the movie. They go right into the relationship they had.
What was the purpose behind the Black Panther STEAM (science, technology, engineering, art and math) event?
The Black Panther STEAM event all started with just a hope and a dream. I think it was probably my third time watching Black Panther in the movie theater. This strong feeling just came over me like this is more than just a movie, and this needs to be transitioned into a conversation, transitioned into a reality for our youth.   
I'm a dreamer, and I'm an executor. The kids could create a cell phone app,  make their own website, music, engineering, and grow fruits and vegetables. To see a spark in their eyes was amazing, so they understood that their dreams could create the future that they want.
How did Mayor Keisha Lance Bottoms, rapper-actor Ludacris, actor Michael B. Jordan and Lonnie Johnson (founder of the Super Soaker water gun) get involved?
One thing led to another; everybody was attracted to it. Ludacris was attracted to it, Michael B. Jordan, and many of the organizations here in Atlanta that are STEAM-focused within sciences and technology. They came and set up exhibits.
Where did you get the inspiration from for the song "Like You" and the album, Love Levels?
Love Levels is titled that because I wanted to sing about the different levels of love between man and woman, between a family, the unconditional love of a family. I'm supposed to be that bridge about the different levels of love that we experience in our community.
I have songs that I just released such as "Like You" is talking about a love that I've met that has met me spiritually where I am. And then if he can meet me spiritually where I am, I can meet him physically and then spiritually and physically, we can be one.
"Only Girl" is a response to Bobby Brown's "Roni."
My man is my man. I'm the only girl. So, it's like a comeback. We're not sharing any man and sharing the things that come with that if you know what I mean. 
What is your vision for the "Only Girl" movement?
It ties into the song "Only Girl" and encouraging our young women and girls to have respect for themselves. Their spirit, their bodies and to know they're worth enough to be the only girl. You don't have to settle for less, and if he doesn't want you to be the only girl, then he can kick rocks.
What's next for you in regard to music, acting and philanthropic work?
Of course, I'm working on the album. It will be out in a few weeks. I'm continuing encouraging our urban youth. We want to keep encouraging them and putting people in front of them that look like them to encourage them throughout the school year to stay in school and use them to change their community.  
Do you have any advice for someone who wants to get into the business and do more than one thing?
I say take one thing to focus on right now. Keep all of your passions because you were given those gifts and those passions. You're going to use them at some point. It's just a matter of when and it's a map.
It's all about balance, and you're going to want to focus on one dream to the next. Live in the moment and enjoy it. Don't always focus on the result, but focus on that moment.