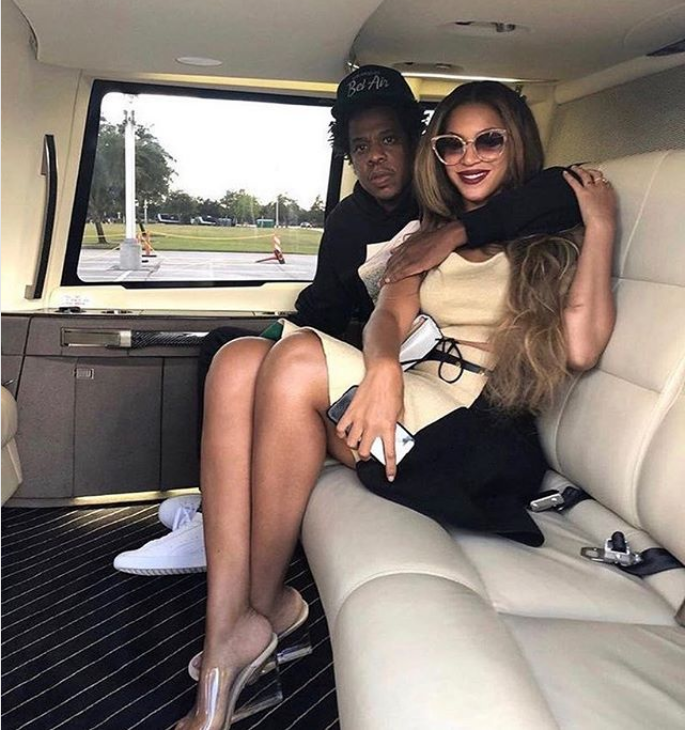 Kanye West and Kim Kardashian both seem to be a little too desperate or, as they say "thirsty," to rub shoulders with royal pop couple Beyoncé and Jay-Z and get their approval. This goes back years and includes the time Kardashian invited Bey and Jay to her wedding to Yeezy, which Queen Bey and Hov skipped at the last minute.
Beyoncé's disdain for the talent-free Kardashian is so obvious that Stevie Wonder can see it, and this has sparked temper tantrums and tirades from troubled rapper Kanye on Twitter and during his concerts.
So what makes Yeezy think that Bey would sport his shoes when he keeps throwing shade at her and Jay?
Obviously, Kanye did the happy dance and prematurely celebrated Beyoncé wearing the clear shoes from his new clothing line. Kanye posted a picture of Beyoncé and Jay-Z, with Beyoncé sporting heels that looked exactly like the Yeezy shoe that the rapper is releasing soon.
The problem is that those shoes were not from his collection, but a pair of look-a-likes.
Cosmopolitan is credited with catching Kanye's embarrassing faux pas. Bey was wearing shoes that were made by Public Desire. Worse off, the fashion mag points out, the shoes are only $50, to boot.
Kanye even proclaimed to the world that the trio were once again "famleeeeee," as he captioned the above photo, which would signal the end to their years-long feud.
Yikes!
This leaves Kanye looking quite ridiculous — as if Jay and Bey had forgiven him for raging against them publicly.
Twitter caught wind of the situation and quickly made mockery of Yeezy. The pettiness is quite hilarious. Check out posts from Instagram and Twitter below:
badgalgucci@minuteeemaid

 coz the Carters don't f— with Kanye no more that's a lowkey dis/hit at him like seriously all the tabloids are saying that's not Yeezys…. 🙃