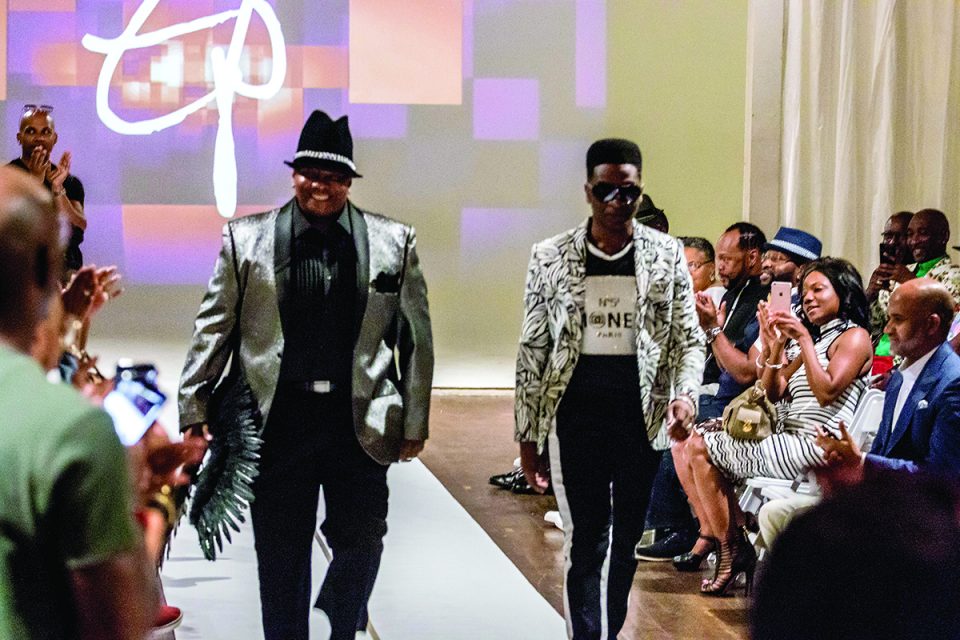 The legendary Ebony Fashion Fair captivated Toney Powell and Tim Parks with its influence on production values and creative themes. Buzzwords such as press play, rewind, remix and fast forward appeared during their brainstorming sessions and would serve as the title of their show and its segments.
It's been four years since this collaboration, collectively known as TP2 Men's Apparel, graced us with their first fashion show, Evolution. Judging by what strutted down the runway on Sept. 8 at the Ambient Plus Studio in Atlanta, the duo showed that their work has evolved even more. Every aspect of their sophomore effort, Press Play, flowed like a well-oiled machine.
Paying homage to Victoria's Secret, Press Play's opener included models wearing only boots, a jockstrap and wings. Model Elijah Samuel flew in from Washington, D.C., to participate in the show.
"Working with Toney and Tim has been one of the best experiences in my modeling career," Samuel says. "The creativity, professionalism and organization speak volumes and clearly through their designs and shows. I'm blessed to have been a part of this year's production."
The bold moves in texture, exciting color palette and cohesive show production were warmly received by members of the audience, who anticipated each model's approach to the runway and applauded as they exited. Dressmaker Isaac Spry and hat designer Otis Damon shined in their segments, and their contributions added to the mix like a well-stocked stew of couture.
Sponsor Dr. Chris Metzler, CEO of Mannish W Skincare for Men, was present to select the models for an upcoming ad campaign for the skincare line.
"From my standpoint, it's going to be a difficult choice because there are so many potential models. The show was well organized. A variety of designs. High energy. Fantastic show. We're so happy that we decided to sponsor the show this year. I'm thinking how can we sponsor bigger and better next year," he said.
TP2 Men's Apparel
Instagram: TP2Atlanta,
Facebook: TP2 Men's Apparel
Mannish W Skincare for Men
Instagram: Mannish_W
Check out the photo gallery featuring runway looks from TP2  Men's Apparel's Press Play fashion show below.