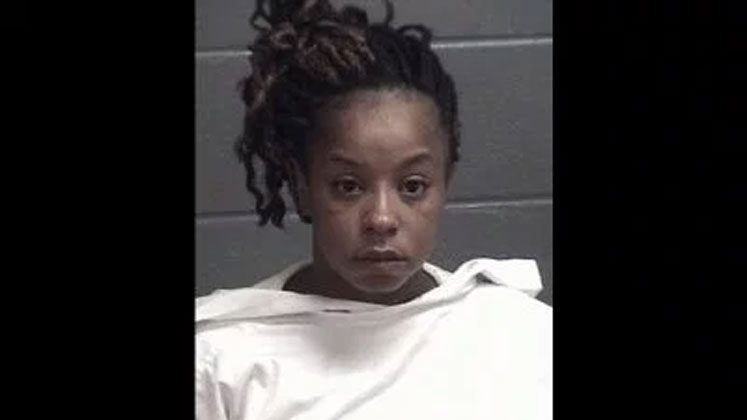 Laquanda Mosley, 27, appeared in a Griffin, Georgia, courtroom in a preliminary hearing for her actions that were broadcasted live on Facebook. Mosley was seen in a video submerging the head of her daughter in water in what is an alleged attempt to drown her. The video was sent to the child's father with a threat that he send child support. She texted to the dad, "This baby about to die on god," and "Send me my money now or she bouta die on (Facebook) live."
But her lawyer, Paul Liston, is stating that the mother was suffering from PTSD and post-partum depression. According to a statement given to 11Alive News in Atlanta, Georgia, Liston claims that his client was in the midst of a mental breakdown over finances. It is alleged that the baby's father, who lives out of state, took $80 that was supposed to be used for food and rent for her three children. He also noted that the ultimately the baby was not harmed by her mother's actions on the video that he has not yet seen.
Liston released the following statement to media:
"Laquanda Mosley has directed me to waive the preliminary hearing scheduled for 8 am, October 30 before Judge Rita Cavanaugh, Spalding County Magistrate Court. I just confirmed the waiver in an email to Judge Cavanaugh. I have been in contact with Ben Coker, DA Griffin Judicial Circuit, and he has agreed to consent to a court-ordered mental evaluation of Ms. Mosley. I am in the midst of drafting the consent order. Ms. Mosley tells me she suffers from the effects of PTSD and postpartum depression, and that the mental breakdown you and the world viewed on Facebook was triggered by the anger she carries due to the boyfriend's stealing $80 which she had planned to use to pay towards her rent and to buy food for the children and herself. Up until the boyfriend took the money and left, he was watching/babysitting the children, which allowed Ms. Mosley to work and bring income into the household. When he left, there was no food, no money and no hope that she could work. She suffered a mental decline which she has not come out from under. The boyfriend would not reveal his location, so Ms. Mosley was able to communicate with him only via Facebook."
"During the communication, you saw on Facebook, Ms. Mosley was angered because the boyfriend said something that recaptured the fact that he had stolen the last of her money and walked out. The baby, who reached age 5 months yesterday, was not harmed during the events depicted on the Facebook postings. Ms. Mosley was with the child for 10 hours before the police arrived to investigate. The baby was checked for fluid in his lungs (none) and other trauma (none)."
Mosley had tears streaming from her face in court as the judge announced that he would not grant bond over the incident. She is being charged with aggravated assault with attempt to murder, first-degree child cruelty and making terroristic threats. Both the lawyers and law enforcement are asking that the video be removed from social media and are asking the public not to share the disturbing footage of abuse and what some would say is attempted murder. Her next court appearance will be October 30, 2018.