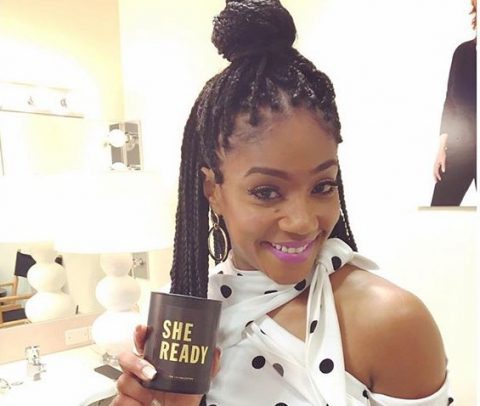 Tiffany Haddish admits it is a dream come true to work with Whoopi Goldberg — because the Hollywood comedian is the person who inspired her own career.
Goldberg, 62, plays the mother of Haddish's character in the upcoming comedy Nobody's Fool — which was written and directed by Tyler Perry.
Haddish, 38, admits that every day on set with the Hollywood icon was a joy because it was after watching Whoopi in the 1986 spy comedy Jumpin' Jack Flash that made her want to become a comedian and actress.
Appearing on Goldberg's talk show "The View," she said, "She did Jumpin' Jack Flash, that's the movie that I fell in love with you in.
"When I saw you do that movie I said, 'I want her to be my mama, I wanna learn from her, I want her to tell me what's right and what's wrong.' I would pray on it all the time, like, 'One day I'ma [sic] work with her, one day we gonna be friends, one day we gonna know each other,' and then, like, God answered my dreams."
Getting slightly emotional, Haddish added: "I'm about to cry … but it's such an honor. I wanna do more movies with you."
The Night School star hopes that she will go on to emulate Goldberg's incredible career and also become a member of the EGOT club — which is the name given to artists who win an Emmy, a Grammy, an Oscar, and a Tony Award.
Discussing the impact Goldberg has had on her career, she said: "She supported me for a long time and I didn't even know it. I'm gonna get an EGOT too one day! You never can have too many mothers, you never can have too many elders to guide you and give you nurturing, and provide you with the help that you need to be a successful woman. I didn't do this by myself — I had mentors and I had people giving me advice and I listened. I think it's important to have a support system."
Haddish has already won a prize in her first step to achieving EGOT status as won an Emmy in September for Outstanding Guest Actress In A Comedy Series for hosting "Saturday Night Live."