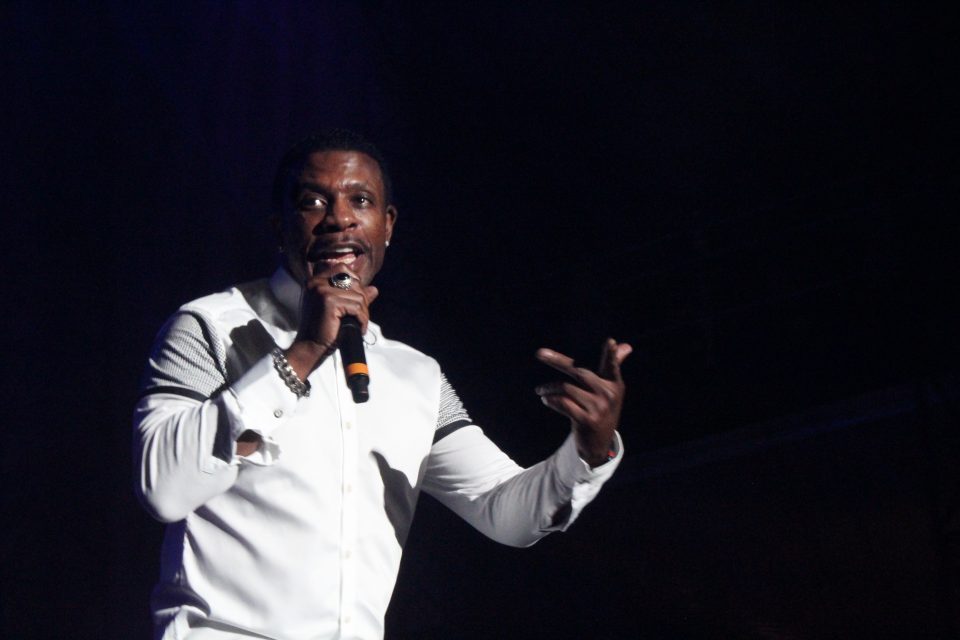 Legendary R&B crooner Keith Sweat was clearly perturbed during his backstage interaction with Jacquees at the V-103 Winterfest concert inside the State Farm Arena in Atlanta last weekend.
Jacquees loudly — and, some say, disrespectfully — proclaimed to Sweat that he is king of R&B "from right now" and that Sweat is nothing but a blast from the past.
Singer Jacquees, 24, and his crew just happened upon the "Make it Last Forever" hitmaker while the two camps were walking backstage. Jacquees took the opportunity to run up on Sweat, 57, and told him he was the "King" of R&B from previous decades and also insinuate that his time has expired within the genre.
"This is the king from back then. I'm the king from right now," Jacquees said.
At that point, Sweat tried to remain amicable and calm, so he gave Jacquees a brotherly hug and said, "I'm still getting that bag. I don't know what he's talking about."
Rodriquez Jacquees Broadnax of Decatur, Georgia, went on to claim he was the king again, and Sweat was left looking stunned and miffed at the same time. After a pregnant pause, Sweat simply swatted away the comment as he walked into his dressing room.
Sweat is far from alone in delivering parental-like chastisement to Jacquees' imprudent declaration. Grammy and Oscar winner John Legend had this to say on Twitter about Jacquees' claim to the R&B throne:
"Honestly I don't think there is a king of r&b right now. Anyone consistently dominating the charts, selling out arenas, etc, a la Usher at his prime. Not a comment on quality. I think the throne is open right now.
"Part of me is talking myself into saying Bruno or the Weeknd but I'm not sure they neatly fit into the genre (sic)," added Legend, who also has won an Emmy and a Tony to complete a very rare musical feat.
Another singer, multiplatinum artist Chris Brown, was more direct in his criticisms of Jacquees, though he delivered it through his camp.
"Chris thinks it is hilarious that Jacquees would call himself the king of anything at all," a source told HollywoodLife. "Chris knows Jacquees, loves his music, and has even worked with him, but feels like it is disrespectful to him and to accomplished, Grammy-winning guys like Usher and R Kelly to be calling himself the King of R&B. Chris has been laughing at all the attention Jacquees is getting over his wild statement, and Chris appreciates all the love and support his fans are giving him a response, too. But Chris thinks the statement is ridiculous, and he will not be crowning Jacquees as the crown of anything."
Check out the video from TMZ's YouTube channel below and be sure to pay attention to Keith Sweat's reaction to Jacquees' blatant shade: