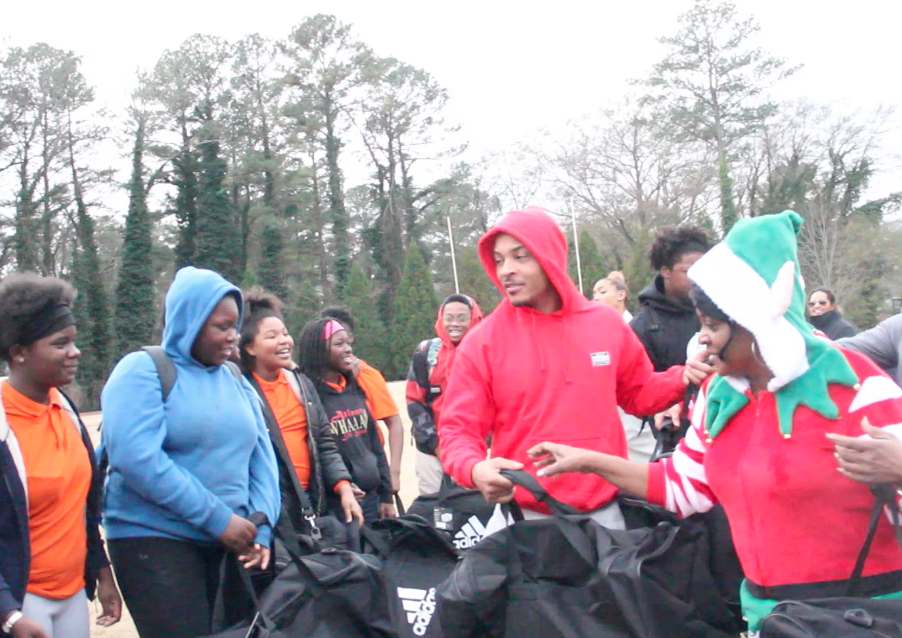 The Grove Park community exists in an area of Atlanta where 41 percent of the homes are vacant or dilapidated. Liquor stores and a slew fast-food restaurants line Donald Lee Hollowell Parkway, which was once infamously known as Bankhead Highway.
In the midst of a community fighting to survive, John Lewis Invictus Academy middle school serves as a place where pre-teens can begin to seek to find a better way through education.
Days before Christmas, rapper T.I. surprised students at John Lewis Invictus Academy middle school by dropping off toys and holiday cheer.
"It was important to give back to this community," T.I. shared with rolling out. "We passed out 50 bags to students, and that was us spreading holiday cheer for folks who need it the most. I think it's more of a blessing to be a blessing … I tell the kids to keep education first, work hard and follow your dreams."
Gregory Parks, principal of John Lewis Invictus Academy, was grateful for T.I.'s visit.
"We have the best and brightest over here, and we are proud of what we're doing," Parks said. "We have the next senator, next governor, and next big music producer. There are some talented people here. It's good for T.I. to come to plant seeds into the kids so that they know it's possible to achieve."
T.I. was joined by several Christmas elves – more specifically his mother, aunt and friends – as he spent the day surprising Atlanta children and families in need with Christmas presents. Along with visiting John Lewis Invictus Academy, the group also shared some holiday joy and gifts with kids at Egleston Children's Hospital and Doctor Daycare.
The Christmas Caravan was hosted under the umbrella of Tip's nonprofit organization, Harris Community Works (HCW). The charitable organization works to empower and elevate the community through education, awareness and opportunity. HCW focuses on community impact projects that help improve lives through community transformation initiatives, civic engagement efforts, community outreach and youth development programs.