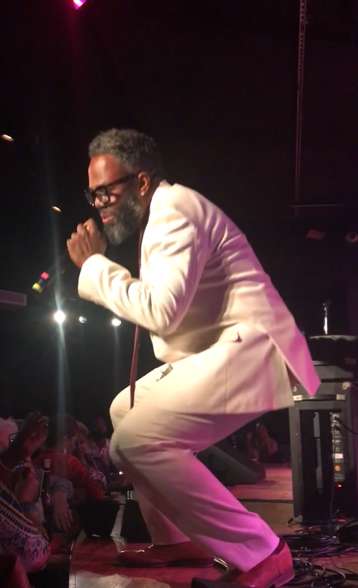 Dwele brought his "Winter White Nights" tour to Atlanta during the holidays, headlining four sold-out shows at City Winery.
The Grammy-nominated artist, who has performed in London, Asia and across the United States, is a consistent vocalist, and his delivery is always smooth and genuine. He not only is a romantic balladeer but also a consummate storyteller, narrator, poet and thespian.
Born in Detroit, Dwele was a child prodigy who began playing the piano at the age of
6. He uses the trumpet, bass and guitar, which he also plays, to convey his musical genius in song.
His energy is sophisticated, and you can hear the influences of Roy Ayers, Stevie Wonder and Donny Hathaway in his music.
Known for his creative edge with love songs, Dwele's vintage sound and charm makes him a classic crowd-pleaser, especially with his female fans.
His live concert included hits from all of his albums, but when he performed up-tempo tracks "Love You Right" from Man of the Hour (2015) and "Let Your Hair Down" from Subject (2003), he did not fail to leave any of his fans wanting more.
Dressed in all white, he performed with a full band and guest vocalists. His romanced his audience into the night and set the tone for a carefree evening that could only end better with a paramour.
—kelly raye