Cassie is definitely a free woman. Or, should we say, she is completely free from Diddy.
The "Me & U" singer made it unequivocally clear that she has moved on from the music mogul when she posted a photo on her Instagram page showing her kissing a mystery man. This comes after Diddy seemed to be trying to win Cassie back with a series of IG messages.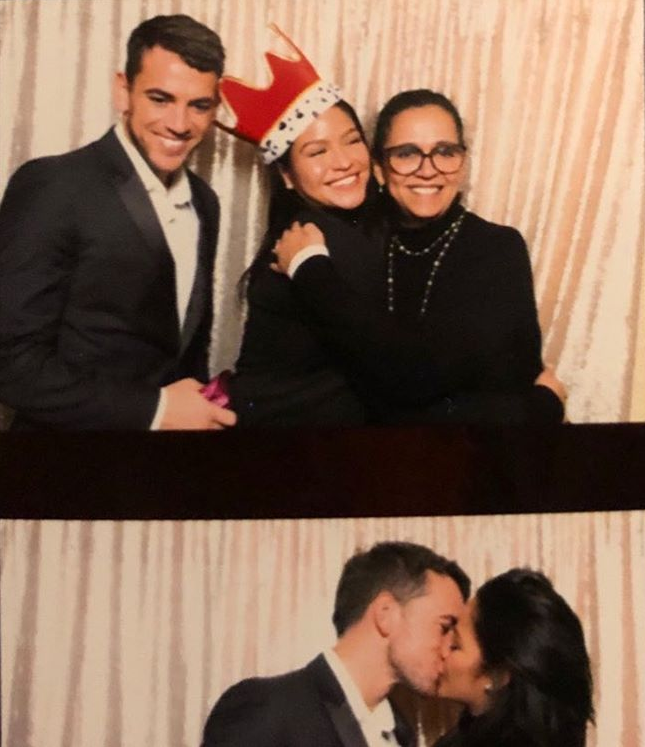 Casandra Elizabeth Ventura, 32, of New London, Connecticut, didn't seem to be very impressed with Diddy's IG post which featured a very large heart on an adorable photo of her.
Just a few hours after Sean Combs made that move, Cassie posted the above photo of her locking lips with the man on her own IG account.
The question on everyone's mind is this: Who is this mystery man?
His name is Alex Fine. He's a celebrity personal trainer who boasts an Instagram following of almost 100K people. He is a Central Michigan University grad and owns the Alex Fine Performance personal training program. Some of his clients include NFL stars Odell Beckham Jr. and Reggie Bush (who just retired) as well as daytime talk show host Kelly Ripa.
Cassie isn't exactly playing the "cougar" game as she is 32 and Fine is 25.
And another thing: Cassie's new man also happens to be a bull rider and a good one at that, according to reports.
"It was a bet that started when I met one of my clients, Justin Pugh, who plays on the New York Giants," he told The Manual. "I thought I could do it and he didn't. I'd never ridden a horse before. It's pretty peaceful when you're sitting on the bull … until you get bucked."
Cassie's relationship with Diddy ended for what looks like the final time earlier this year after they dated for over a decade. He took her on many of his international excursions and major events, but he never put a ring on it.
Lately, Diddy has understandably been in mourning over the tragic and sudden loss of another one of his exes, Kim Porter, who died this past November in suburban Los Angeles at age 47. Cassie, ever the dutiful and loyal friend, came to Diddy's side to comfort him in bereavement. But she has since moved on.
Cassie's seemingly cold and calculated move won approval from fans, as you can see from the sampling of social media responses below:
Diddy after seeing Cassie boo'd up.#cassie #diddy pic.twitter.com/5ko7i9nJnR

— undiagnosedbipolar (@undiagnosedbip1) December 29, 2018
#Cassie after #Diddy reached out 😂 pic.twitter.com/QFxkKKxSlz

— Sheldon Coleman (@SCRenard84) December 29, 2018
Amen to that sista #Cassie pic.twitter.com/QTYTR9xkNa

— Future Billionaire (@Exotee) December 30, 2018
Don't you ever for a second get to thinking,,,,, your irreplaceable. #cassie pic.twitter.com/uRfcFfsopD

— Ashley D'nearah (@AshleyDnearah) December 29, 2018
So Diddy posts Cassie in his IG story and hours later she posts her new boyfriend. I love this energy. pic.twitter.com/TeTAkBkXT2

— GNCordova (@GNCordova) December 29, 2018
https://twitter.com/Nyend_K/status/1079309274092716032
Girls be moving on and not looking back in 2018… 😳And by golly that move was cold and bold and golden 👊 #Cassie&Diddy

— hesouttamylife (@Ilive4u4me) December 29, 2018