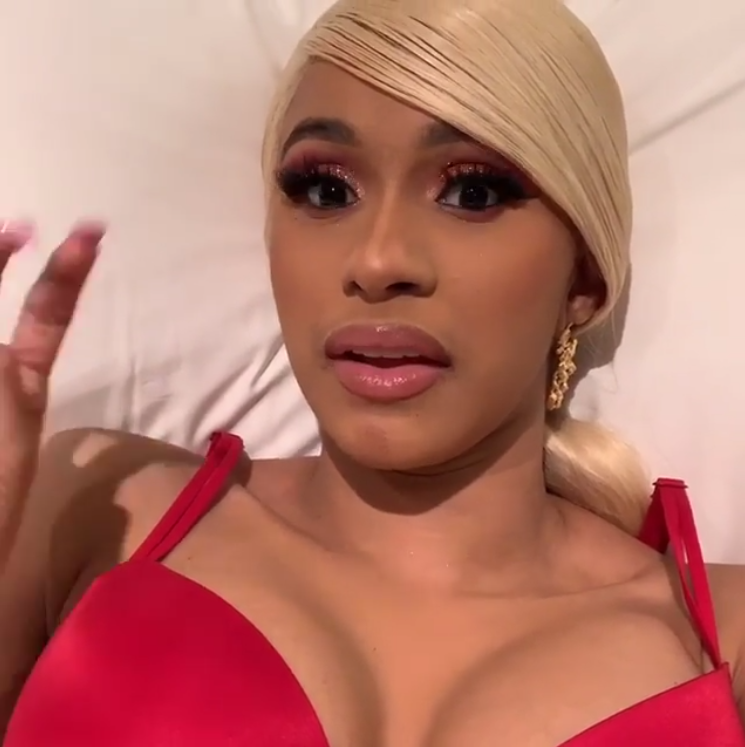 Cardi B has a protective lioness as a publicist and she unleashed a verbal smackdown on a disgruntled fan who didn't get their way at an Australian airport.
The superstar rapper's publicist, Patience Foster, roared at a shady Australian "fan" when the older woman lobbed an unprovoked insult in Cardi's direction because she didn't get a photo with the five-time Grammy-nominated star.
Cardi B has been busily making international boss moves lately, stacking coins and award nominations, and hitting the stage at festivals in Puerto Rico, Dominican Republic, Los Angeles, Hawaii and Australia.
However, her fun parade was rudely interrupted before she stormed the stage at Orgin Fields Festival in Australia. As the "Bartier Cardi" rapper made her way through the airport with her crew, a fan requested to take a picture with her. As Cardi camouflaged herself under a yellow and black blanket over her head, she declined politely.
The White Australian "fan" responded shadily with: "no wonder your husband left you."
As soon as those words left the woman's lips and floated into the atmosphere, Foster turned and blasted off as if she had just drunk a glass of jet fuel.
Patience unloaded on the quickly backtracking fan with words that came out like projectiles:
"B—-, I'll smack the s— out of you. Don't ever come out your mouth about her mother f—— husband. Watch your mouth. Watch your mouth."
Check out the one-sided, heated exchange on YouTube below:
https://www.youtube.com/watch?v=7lvWKRe5lcE
Some celebrities might have chastised their representatives or at least apologized to the fan for such a fiery interaction with the music-buying public. But Cardi defended Foster's behavior.
In an Instagram video that has been deleted, but captured by the likes of Us Weekly, Cardi had this to say:
"Let me tell y'all something about my publicist. Y'all love saying, 'Oh she's ghetto, she's this.' My publicist is for me," she explained. "My publicist is a publicist that do [sic] things my way and fits my personality. You know, when I first started, your faves — their publicist, they didn't want to take me as a client. And she was working in one of the biggest publicists company … and you know what they told her? 'Don't take her, she's a reality star. Nobody's gonna take her serious[ly].' And she still work [sic] with me, got me my first magazine cover, changed my image. Not only is she my publicist, she's my friend."
Cardi even had had the audacity to say Foster should have spit in the woman's face for disrespecting her:
"Matter fact, I am mad at Patience. Wanna know why I'm mad at Patience? Because she should have spit in that f—— lady's face. That's why. So don't tell me about my b—-. That's my b—-. She's been doing a great f—— job and I thank her every single f—— day. Thank you."