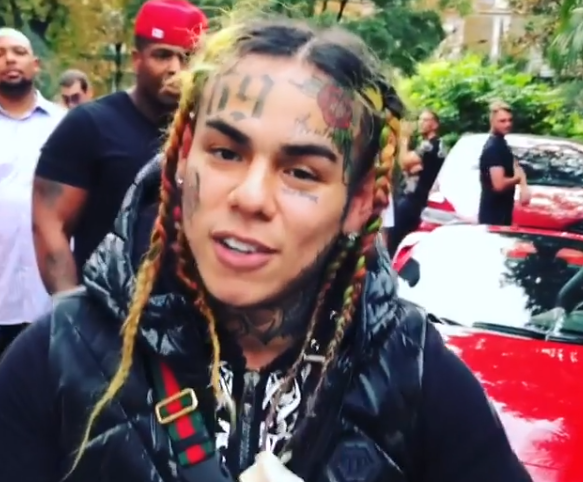 Normally when a famous rapper gets arrested in seems they are out of jail within hours of getting their high-powered lawyers on the case. But this is not the case for rapper Tekashi 6ix9ine, real name Daniel Hernandez, who is still incarcerated after his arrest in November 2018 on a host of federal charges.
Last year was full of drama for the troubled star, from sexual assault to alleged gang activities, 2018 was not good. In November 2018 Hernandez,  his former manager, Kifano Jordan ("Shottie"), as well as Jensel Butler ("Ish"), and Faheem Walter("Crippy") were arrested after a joint investigation that included local law enforcement and the feds. Hernandez was later indicted on six counts: conspiracy with others to commit racketeering, discharging a firearm while committing a crime, committing a crime of violence in aid of racketeering, assault with a dangerous weapon, carrying a firearm, and committing a crime in aid of racketeering.
There were rumors that he was placed in protective custody that have not been confirmed and also that he might be cooperating with law enforcement. He was moved from the Metropolitan Detention Center in Brooklyn, New York, to an undisclosed federal facility after reporting threats from prison inmates affiliated with the Bloods and Crips. But surprisingly, after being in lockup for over two months Tekashi has not applied for bail because his legal team has fallen apart. Judge Paul A. Engelmayer discovered that Hernandez's lawyer, Lance Lazzaro, had at one point acted as lawyer for co-defendant Kifano Jordan and another man involved in gang activity. Citing a conflict of interest, the judge ordered Lazzaro off the case.
According to Complex magazine, Lazzaro was making arrangements to apply for the release of Hernandez on a $1.5 million bond. However, with this new change in his legal team, Hernandez may not get out of a federal detention center until his trial, which is scheduled to start sometime in September 2019.