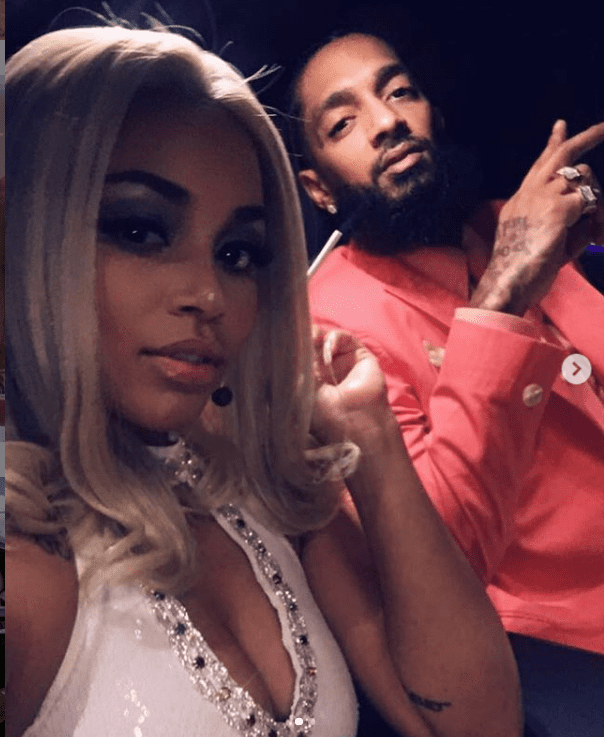 The hip hop community is inconsolable this morning after learning of the tragic death of rapper, entrepreneur, activist and philanthropist Nipsey Hussle. He was shot and killed in South Los Angeles on Sunday afternoon in front of his Marathon Clothing store.
Hussle, who was born Ermias Asghedom, 33 years ago, was gunned down not far from the Crenshaw neighborhood of L.A. where he was reared. He worked as a local community organizer and was instrumental in the Destination Crenshaw arts project.
This is why news of this transcendent figure's murder sent shockwaves throughout pop culture. Everyone from Drake to LeBron James, to Issa Rae, to Colin Kaepernick, to Jada Pinkett Smith, weighed in with heavy hearts and confused minds.
Drake took to Instagram to share his emotional reaction to the horrible news.
"F—. My whole energy is just at a low right now hearing this," Drake wrote in the caption. "We just linked for the first time in years and said we were gonna do a new song this summer cause it had been too long."
"You were having the best run and I was so happy watching from distance fam nobody ever talks down on your name you were a real one to your people and to the rest of us," he added. "I'm only doing this here cause I want the world to know I saw you as a man of respect and a don. Rest easy my g."
Rihanna was shaken to her core. The singer posted a photo of Hussle and his daughter, Emani, on the red carpet at the 2019 GRAMMY Awards, and penned a heartbroken post about the loss.
"This doesn't make any sense! My spirit is shaken by this! Dear God may His spirit Rest In Peace and May You grant divine comfort to all his loved ones!" the singer wrote. "I'm so sorry this happened to you @nipseyhussle."
NBA superstar LeBron James shared his pain in a tweet, saying "So so SAD man!! DAMN man this hurt."
The Game, who writes under the IG name LosAngelesConfidential, wrote this: Rolled down my window 12 years ago on Crenshaw & Slauson as you handed me your demo & said "Chuck, don't frisbee my s— homie… give a young n—- a ear". From that day to letting you open up for me on tour & us going around the world together, creating a bond & watching your growth to today…… Murdered my friend in front of his own store on a Sunday at that !!! After just talking to you on the phone just last night about the Dr. Sebi documentary, family, the kids & how we were both bout to f&$k the summer up with this music, the world loses a true king. A man that was truly about everything he spoke & stood up for all that he believed in. I keep seeing your name in these headlines bro, but it seems unreal to me…. like, I just cannot believe you gone !!!! I love you….. I'm really broken & saddened by the fact they did this to you SMMFH !!!!! I can only imagine what your family is going through right now… This was not how your life on earth was supposed to end !!!!!!!! They don't even make friends like you no more…… @nipseyhussle 🙏🏾 & in LA, at his own store ?!?!? A store & business he put there for his people ?!?!? Los Angeles, how we let this happen ?!?!?!?!? I'm ashamed of you right now !!!!! Can't even live out ya whole life in this city no more… this s— right here is just krazy to me !!!!!!!!!!!! #RestInPeaceNip can't even f—– believe it's actually your name attached to all these REST IN PEACE posts !!!!! SMFH
Hussle was one of three men who was shot in the attack. They were all taken to a local hospital following the shooting, where Hussle later died of his injuries, according to the Los Angeles Times.
😥😥😥😥😥😥‼️‼️‼️‼️ So so SAD man!! DAMN man this hurt.

— LeBron James (@KingJames) April 1, 2019
Broke me…. we really fighting for our lives against our own kind and really have to take risk and match the level of hatred that we are born in .. I'm tired 🙏🏾 prayers for my brother and his family

— MeekMill (@MeekMill) April 1, 2019
This one hurts man… Lauren I am so so so sorry!!! RIP Nipsey 🙏🏽

— Karrueche Tran (@karrueche) April 1, 2019
Watching Nipsey inspired me to invest and own in our communities. He was a solid man who loved his woman, his family and his community. This hurts.

— Issa Rae (@IssaRae) April 1, 2019
Prayers up for @NipseyHussle

— DWade (@DwyaneWade) March 31, 2019
Thoughts and prayers for @NipseyHussle https://t.co/z00gcByHmE

— 50cent (@50cent) March 31, 2019
Just spoke to you, always kept it 1000. Always was real. You're a 🐐 Rest up young KING. RIP Nipsey https://t.co/LWmIS3DJq0

— Michael B. Jordan (@michaelb4jordan) April 1, 2019
This is so painful! @NipseyHussle was doing great work for the people. Keep his legacy alive by carrying on his work! Sending love to his family. Rest in Power King 👑 pic.twitter.com/hE2MNibbZ7

— Colin Kaepernick (@Kaepernick7) April 1, 2019
RIP NIPSEY HUSSLE

— J. Cole (@JColeNC) April 1, 2019
https://www.instagram.com/p/BvsaXgYjdiX/?utm_source=ig_embed