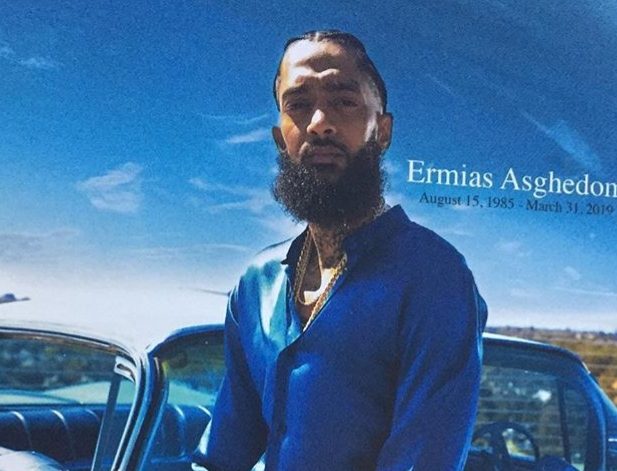 Family, friends and fans of Nipsey Hussle packed the Staples Center in Los Angeles on April 11, 2019, to pay tribute to a man whose impact in the community may have exceeded his achievements in music.
Moments before the doors opened at Staples Center shortly after 9 a.m. PST, thousands of young men and women stood in lines that wrapped around the block leading to the entrance. Most in attendance wore blue, the color of the Crips gang that Nipsey belonged to, and T-shirts that featured the fallen rapper's image.
Shortly after 11 a.m., the service began with DJ Battlecat spinning songs from Nipsey's classic hip-hop album, Victory Lap.
Over the next two hours, Nipsey, born Ermias Asghedom, was presented with tributes that were fit for a legend of this generation.
Here are the five powerful moments from Nipsey Hussle's homegoing service.
Nipsey's family speaks
Nipsey's mother, father, brother and sister all told gut-wrenching stories of how he impacted their lives. But his mother's strength tugged at the emotions of those in attendance. "I want to encourage you to choose a vegan lifestyle," Angelique Smith said. "I want to encourage you to let go of your use of alcoholic beverages and narcotic substances … I want to tell you that we are very loving and kind and a spiritual race of people. I want to tell you that we are very traumatized and pressurized people. We have to be the light of change that we want in the world."
Lauren London
The actress, who dated Nipsey for six years, cried as she shared how his loss will affect her personally and the community. "My pain is for my 2-year-old son who probably won't remember how much his dad loved him," she said. "This pain is really ours. We know what Nip meant to us. We lost an incredible soul … we lost a real one, and we won't ever be the same."
President Obama
President Barack Obama surprised the attendees by issuing a statement on Nipsey's passing that was read by Karen Civil. "While most folks look at the Crenshaw neighborhood where he grew up and see only gangs, bullets, and despair, Nipsey saw potential," Obama shared in the statement. "He saw hope. He saw a community that, even through its flaws, taught him to always keep going."
Stevie Wonder
Stevie Wonder performed "Rocket Love" and "Tears in Heaven" to pay homage to Nipsey. But before his performance, Wonder called for an end to gun violence by saying, "We, to be a civilized nation, civilized world, we still are living in a time where ego, anger, jealousy is controlling our lives. … We must have stronger gun laws. It's unacceptable."
Snoop Dogg
Snoop Dogg, who many believed Nipsey favored in looks, shared how the fallen rapper was ahead of his time when it came to the music business. "We had the same spirit," Snoop said. "But what was crazy was Nip mentality was stronger than a rapper that's been in the game for 15 years."