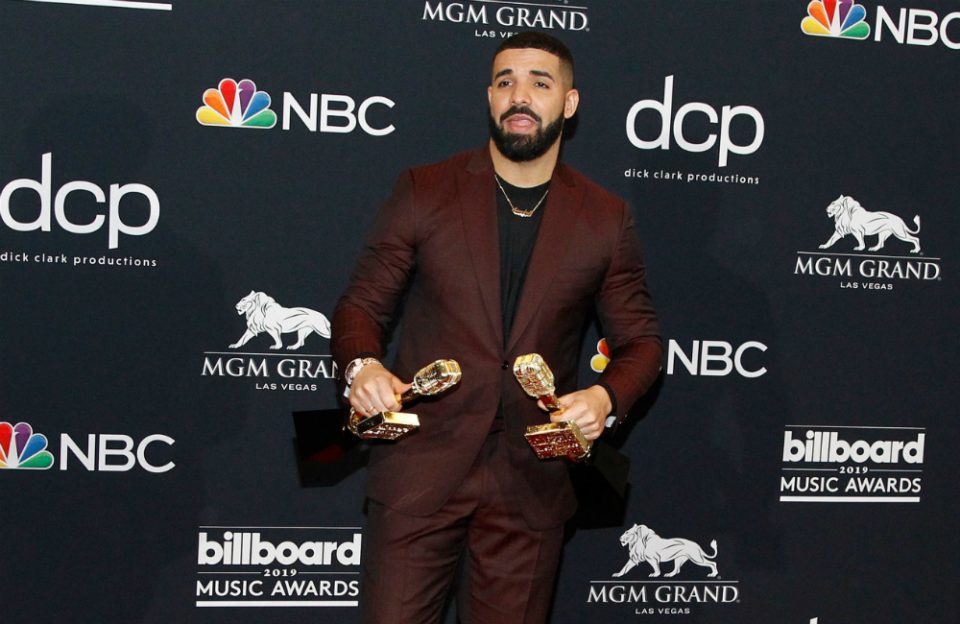 The Billboard Music Awards 2019 took place on Wednesday night, May 5, 2019, at the MGM Garden Arena in Las Vegas and there was one big winner from the evening.
Drake made Billboard Music Awards history at the ceremony taking home 12 gongs, which now means he is the most decorated artist.
The 32-year-old star took home the Top Artist and Top Rap Artist prizes among his huge haul.
He took the stage to collect the Top Billboard 200 Album accolade for Scorpion, and gave a shout-out to "Game of Thrones" character Arya Stark — played by Maisie Williams — after she defeated the evil Night King in the epic Battle of Winterfell on the April 28, 2019, episode of the HBO fantasy show.
"Thank you to everybody who gave me their time, their energy, stayed away from their family and friends while we were trying to complete this. I always had a dream of doing a double album and I finally did it so now I'll never do it again. Hey, shout-out to Arya Stark for putting in that work last week," he said.
Drake beat off competition from Cardi B — who led the nominees with 21 nods — in the Top Artist category as well as Ariana Grande, Post Malone and Travis Scott.
Cardi also landed a big haul on the night, taking home six accolades including Top Rap Female Artist and Top Collaboration for her "Girls Like You" hit with Maroon 5.
But she lost out to Grande in the Top Female Artist category, which Halsey, Ella Mai and Taylor Swift were also nominated for.
Cardi took the stage to accept the Best Rap Song prize for her song "I Like It" with J Balvin and Bad Bunny, but her speech almost got cut short due to such big applause from the audience.
Speaking to the crowd, she joked: "Wait a minute. Let me finish my speech, godd— it. I know y'all love me. If you got a favorite artist, support them. Stream their music. Listen to their music. Tell a friend to tell a friend about their music to get them on the chart, an upcoming artist or artists that's already out there. Support their music. Be the biggest fan that you can be."
Below you can find a shortened list of the 2019 Billboard Music Awards winners:
Top Artist: Drake
Top New Artist: Juice WRLD
Top Male Artist: Drake
Top Female Artist: Ariana Grande
Top Billboard 200 Artist: Drake
Top Hot 100 Artist: Drake
Top Streaming Songs Artist: Drake
Top Song Sales Artist: Drake
Top Radio Songs Artist: Drake
Top R&B Artist: Ella Mai
Top R&B Male Artist: The Weeknd
Top R&B Female Artist: Ella Mai
Top R&B Tour: Beyoncé & JAY-Z
Top Rap Artist: Drake
Top Rap Female Artist: Cardi B