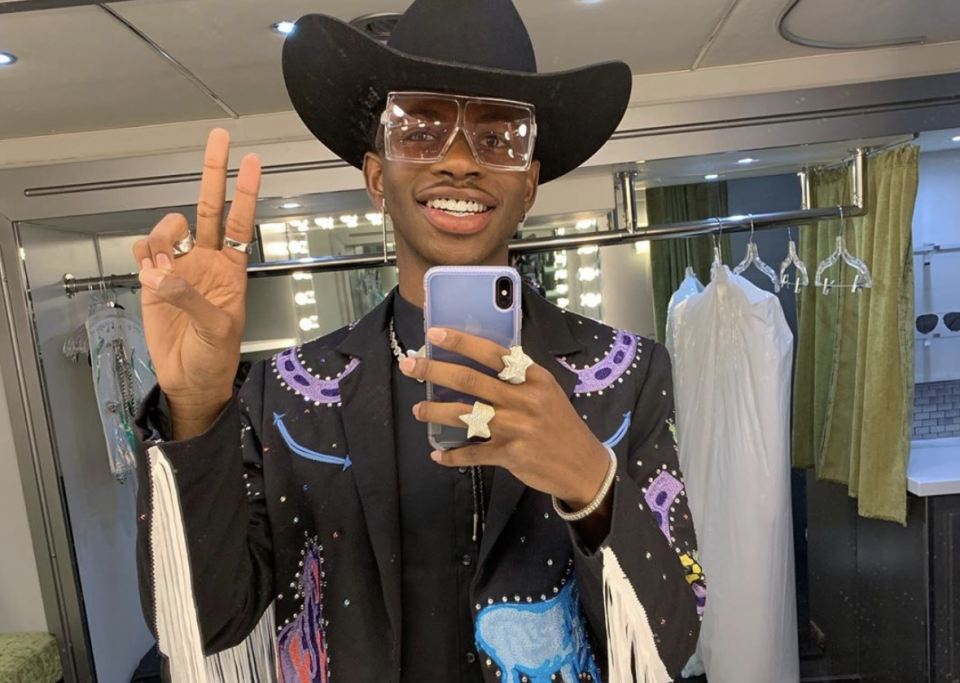 Lil Nas X is shaking up the music industry and changing the way we view and enjoy country music with his new wave sound known as "trap country."
The star — who gained popularity from his No. 1 hit "Old Town Road" remix featuring Billy Ray Cyrus — has now landed a clothing deal with Wrangler.
The jean brand launched its new capsule collection this week, and the designs were inspired by the rapper's lyrics, "Cowboy hat from Gucci / Wrangler on my booty."
This collection offers new spins on classic Wrangler styles. including graphic t-shirts, jeans and shorts.
After Wrangler announced the collaboration launch, country music fans quickly took to Instagram to share their thoughts on the partnership.
One person said, "This makes me not want to buy Wrangler jeans anymore tbh, the cowboy spirit is nothing to be made fun of."
"Please stop selling these. You are ruining the cowboy name that y'all have," another commenter said.
Other respondents wrote:
"$129 for a pair of jeans. I'll pass. lol"
"Thank you, Wrangler, for ruining the original cowboy cuts awesome just fantastic."
"Wranglers are to be worn by cowboys and farmers not rappers this is very disappointing."
Lil Nas X responded to the controversy on Twitter. "Y'all really boycotting wrangler?? Is it that deep?" Nas X tweeted.
The new line is available for purchase on Wrangler's website.
Despite all the hate, the rapper is gearing up for the launch of his debut project, 7, which is slated to drop in June 2019.