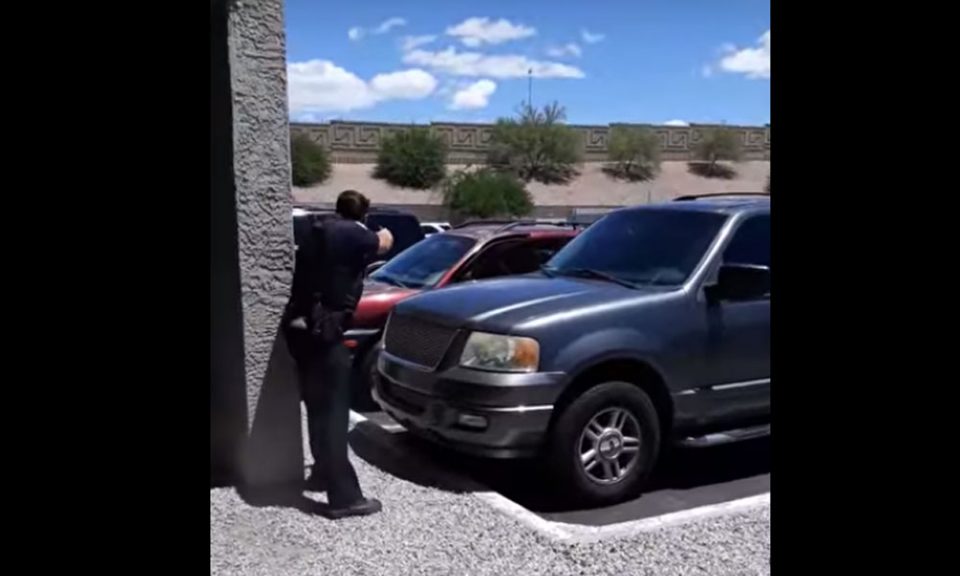 A video has emerged of a frightening encounter between a Black couple with children and officers with the Phoenix, Arizona, police department.
It all started after Dravon Ames, 22, his pregnant fiancée Iesha Harper, and their two small children left a Family Dollar. Unbeknownst to the couple, their four-year-old child had taken a doll, valued at .99 cents from the store while the family was leaving. A cashier told a security guard and that guard called the police.
According to the Phoenix New Times, a patrol car then followed the couple to a nearby apartment complex where the family lived. It was then that a still unidentified cop is seen with his gun drawn pointing it at the family in the vehicle and telling them to get out of the car. Ames and Harper are shocked and unaware of why the police are surrounding the vehicle and pointing a gun. The officer is heard to say  "Put your f—-ing hands up" and "I'm gonna shoot you in your f—ing face" among other explicative's.
Ames gets out of the vehicle and is slammed against a police car as he tries to comply with the officer's demands while he is still being threatened and told to stop resisting.  A very pregnant Harper gets out of the couple's car with one of her small children in her arms. Another officer tells her to put her hands up. She replied that she had her baby in her arms and the asphalt was hot.  The first officer on the scene continues to curse, berate and threaten the couple as they are cuffed and placed into a patrol vehicle. Soon a police supervisor with the rank of lieutenant arrives on the scene and defuses the situation. Ames and Harper are then released with no charges being filed.
The Phoenix police department is refusing to release the name of the officer involved who threatened to shoot Harper in the face. The following statement was released to the media by police:
"On June 11, 2019, we were provided video of an officer taking two individuals into custody while investigating a shoplifting incident in the area of 3200 East Roosevelt Street. This occurred after the suspect vehicle was stopped a short distance from the scene of the theft. It involved a man and a woman with two small children. The Phoenix Police Department takes all allegations of misconduct seriously and for this reason, this incident is currently being investigated by the Professional Standards Bureau,"
The video of the encounter can be seen below.
https://www.youtube.com/watch?v=w3EZIth8koI