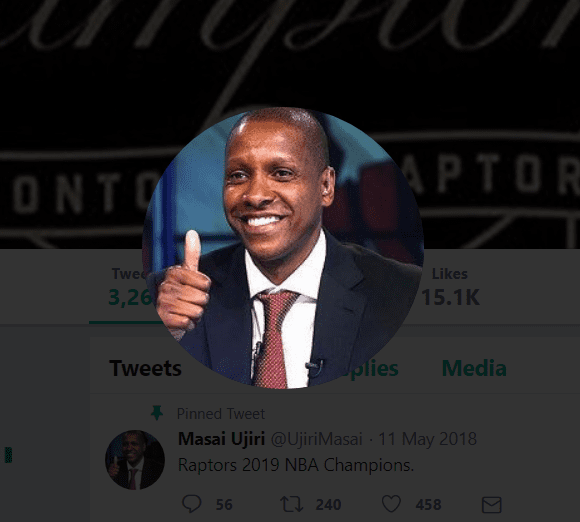 The Almeda County Sheriff's has launched an investigation into the alleged assault on one of its deputies by Masai Ujiri, the president of basketball operations for Toronto Raptors, after his team won the NBA championship, according to ESPN.
The alleged incident took place at the Oracle Arena in Oakland, California, the sports publication reports. Ujiri tried to run on to the court to join the Raptors' celebration after vanquishing the dynastic Golden State Warriors in six games with a 114-110 nailbiter on Thursday, June 13, 2019.
According to the information supplied to ESPN, the Almeda County deputy did not recognize Ujiri and he was not wearing the proper credentials required to gain access to the court. Subsequently, as ESPN reports, the deputy tried to block his access to the court.
"Mr. Ujiri was unknown to the deputy at that time. He [the deputy] asked him for a credential," said Sgt. Ray Kelly, a spokesman for the sheriff's office. "He shoved the deputy out of the way and walked toward the court. The deputy pushed back. The president came forward more with a more significant push and ended up striking the deputy in the face."
According to ESPN, Ujiri watched the end of the game in the Raptors locker room. After the victory, he and other team officials raced to the court area to join in the festivities. However, the sheriff's department says Ujiri was not in possession of the extra credentials the NBA requires to get on to the court, or he did not show it to the deputy.
When Ujiri still tried to gain access to the court, that's when the alleged altercation jumped off, according to ESPN. Both the NBA and Raptors organization declined to respond to media inquiries about the investigation on misdemeanor battery.
The Raptors won the first NBA title in franchise history and it is also the first title won outside the continental United States. Ujiri has been credited with taking a chance on trading for superstar Kahwi Leonard from the San Antonio Spurs, who ended up being the difference maker in their championship aspirations.