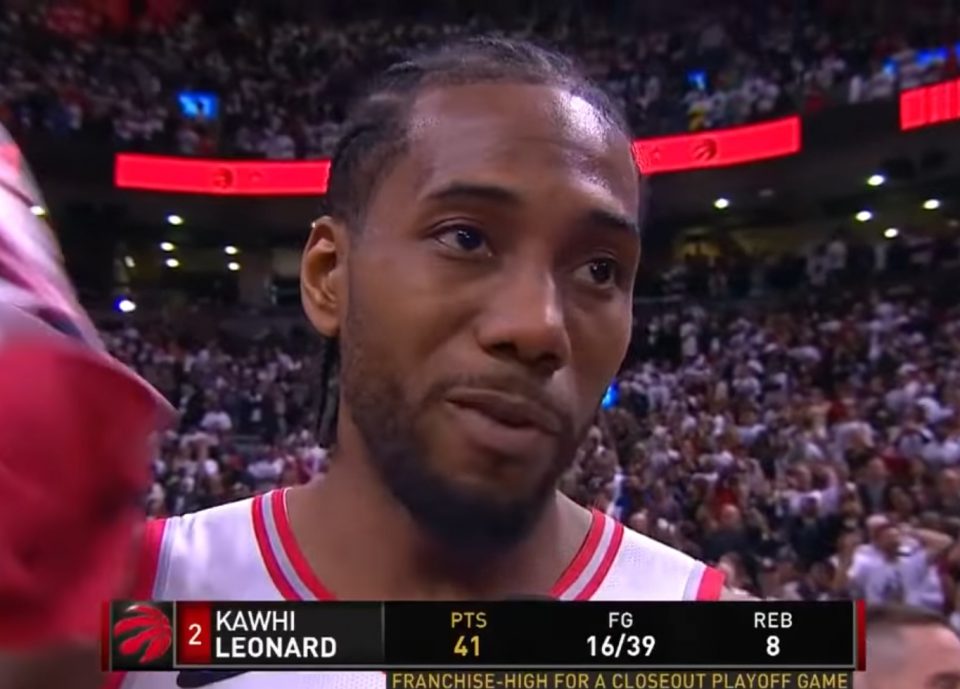 After losing the first two games of the Eastern Conference Finals to the Milwaukee Bucks, many NBA fans gave the Toronto Raptors little chance of beating Giannis Antetokounmpo and the Fear the Deer crew. But after winning four straight games, including the pivotal game five in Milwaukee, Kawhi Leonard and the NBA's only international team are the LeBronto Raptors no more. Surprised? You shouldn't be. We've seen it before.
Back in 2014, when LeBron James was universally regarded as the world's best basketball player, having won four of the previous six NBA MVP Awards, a relatively unknown 22-year old Leonard led the San Antonio Spurs to defeating James, Dwyane Wade, and the Miami Heat in five games in the 2014 NBA Finals.
Leonard and the Spurs defense were able to limit perhaps the greatest asset of James, his playmaking ability, as he averaged only 4.0 assists (7.2 career average) along with 28.2 points and 7.8 rebounds.
After losing the first two games to the Bucks, the Raptors made Leonard the primary defender on Antetokounmpo and his production decreased significantly. After averaging 27.0 points and nine made free throws in the first two contests, the Greek Freak only averaged 20.5 points and made 17 total free throws the rest of the series.
So how do the Raptors beat the mighty Warriors?
The Raptors need Kevin Durant to miss the entire series, or, at the very least, be limited.
They also need to slow down Draymond Green. It may not be the most popular choice but disrupting Green just may be the key to beating the Warriors. In the four-game sweep of Portland, Green averaged 16.5 points, 11.8 rebounds and 8.8 assists a game. It's not the 36.5 points that Stephen Curry averaged in the series, but his contributions are perhaps even more important.
Green is the emotional leader of Dub Nation, and, as we saw in the 2016 NBA Finals, he has shown the ability to lose his cool. Leonard may be the perfect adversary in that sense.
Play elite defense. With Leonard, Marc Gasol, Danny Green and Serge Ibaka, you have two former NBA Defensive Player of the Year Award winners and four elite defenders. With great defense and the type of big shot making Toronto showed against the Bucks, they have a fighting chance. But the fight is over if Durant is anything close to 100%.
Back in February, when the Raptors acquired Gasol, rolling out spoke to Green and Ibaka about the acquisition. "It's good for the team," Ibaka said about the addition of Gasol. "Like you said, we have another guy who can play (elite) defense so it's always good for the team."
Green discussed the potential for the Raptors to improve defensively: "I think we have the potential to be really good, we just have to put the pieces in the right positions, put it together and get the chemistry right," Green said. That's going to be the tough part."