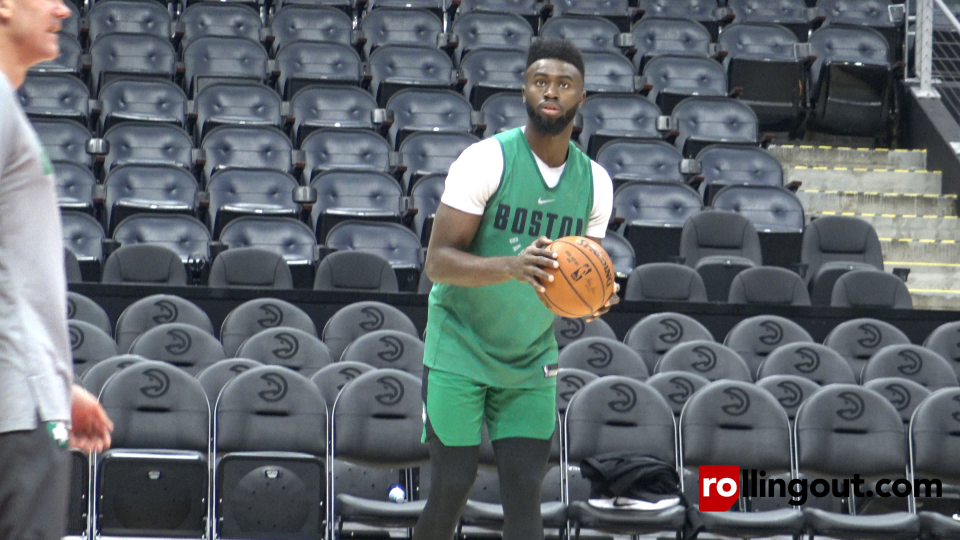 (Photo by Rashad Milligan for Steed Media Services) Boston Celtics guard/forward Jaylen Brown warms up at shootaround in Philips Arena on Nov. 18.
All NBA playoff games have been cancelled tonight in protest. The players of the Boston Celtics and Toronto Raptors were reportedly the first to consider boycotting the NBA playoffs. On Aug. 25, players from the Celtics and Raptors met to discuss their thoughts on the Blake shooting.
Members of both teams considered not playing in the first game of the playoffs as a protest to the ongoing violence that's occurring against Black people by the hands of law enforcement. The boycott could send a powerful message to ignite the fight for justice.
The Milwaukee Bucks were the first team to actually boycott when they refused to leave the locker room to face-off against the Orlando Magic. By 6:00 p.m. EST, all teams decided to boycott and the NBA announced that games would be postponed.
"People post my jersey all the time, number seven, and every time I look at my jersey now, what I see is a Black man getting shot seven times," Brown said during a press conference on Aug. 25. "All America sees is his background, or his background before. It's easier to see that than it is to see the truth."
Blake's shooting was captured by a cellphone. After police responded to a domestic situation, officers can be seen on the video speaking with Blake near an SUV. Witnesses told authorities that Blake was attempting to break up a fight between two women.
At some point during the conversation, Blake walked away as police officers grabbed his shirt and ordered him to the ground. Blake opened his car door and an officer, who has yet to be identified, fired seven shots in Blake's direction.
Video of the shooting eventually went viral, leading to protests in Wisconsin and across the nation. The officers involved in the incident have been placed on administrative leave.
Blake survived the shooting, but his lawyer told the Associated Press he is unlikely to walk again.
Raptors guard Fred Van Vleet spoke after practice on Aug. 25 and echoed Brown's statement by saying, "We had a meeting this morning. A number of things are being discussed, but I'll keep that between our team. We're dealing with it in real-time and I think it affects everybody differently. It's pretty fresh on my mind and I'm sitting in front of a camera, so I'm just speaking as I'm going. But, yeah, there's a lot of different things that we've discussed."