Beyoncé's mom Tina Lawson says Kentucky's AG engaging in 'coonery'
Tina Lawson expressed indignation that Kentucky's attorney general paused the highly scrutinized investigation into Breonna Taylor's killing to get engaged.
Lawson's scorching Instagram post comes two weeks after daughter Beyoncé expressed exasperation in an open letter to Kentucky AG Daniel Cameron. Both are anguished that it has taken months to decide whether to charge the three Louisville police officers who killed Taylor while she slept in her bed at 1 a.m.
Lawson is especially vexed that the 34-year-old attorney general is not working around the clock to expedite the conclusion of this monumental inquest.
As rolling out reported, three Louisville cops busted into Taylor's home on a no-knock warrant in search of drugs. Taylor's boyfriend, a licensed gun owner, fired off a shot thinking that they were being robbed in the middle of the night. The cops fired 20 shots in return, hitting Taylor eight times and killing her instantly. No drugs were ever found in her home.
Lawson made her feelings known to her 2.5 million Instagram followers, saying Cameron's actions amounted to "coonery at its finest."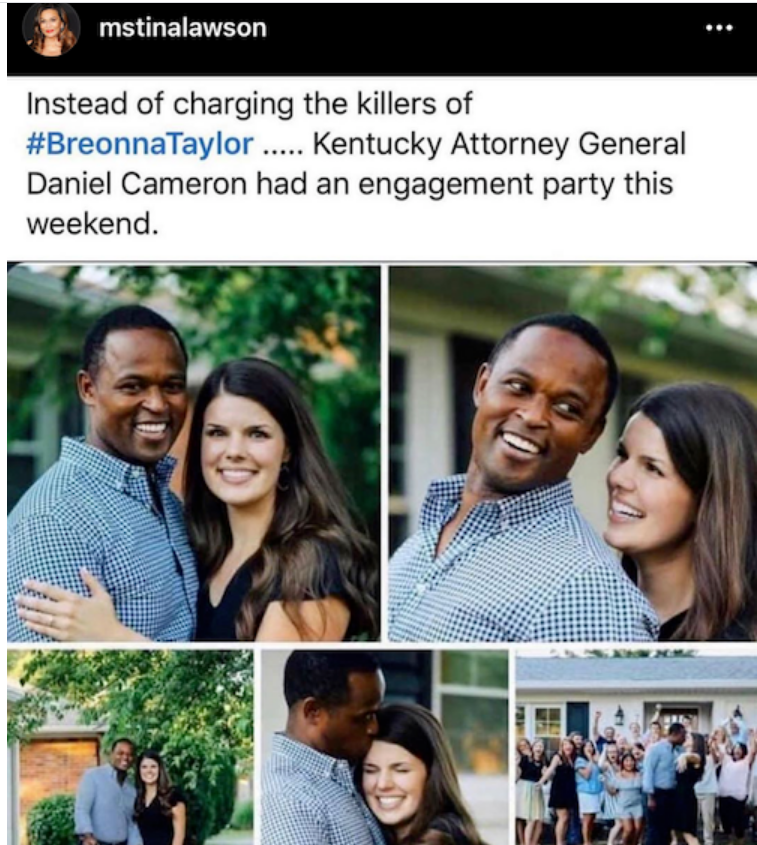 Lawson also added in the comments section this heat-seeking quip: "When Breonna's Mother Tamika asked to speak with him, he had someone else call her! 💔💔. Where are their masks ?"
Actress Gabrielle Union agreed with Lawson with "😒😐" emojis.
Actress Holly Robinson Peete conveyed her anger with emojis: "😡😡"
Another fan barked: "He's a republican and worked for Sen. McConnell. HE IS IN THE SUNKEN PLACE!!!"
While another added: "Just cause they ya skinfolk don't mean they ya kinfolk."
One respondent asked an interesting question: "Where his fam at 😒," as she observed the people cheering at the engagement party. To wit, another person said: "WOW. The bottom right shot seemingly reveals a lot. 😢."
This person summarized the sentiments of many urbanites in Kentucky by writing, "Who has supported trump, was endorsed by trump, and was endorsed by the police in Kentucky lol. He's not a brother of ours."