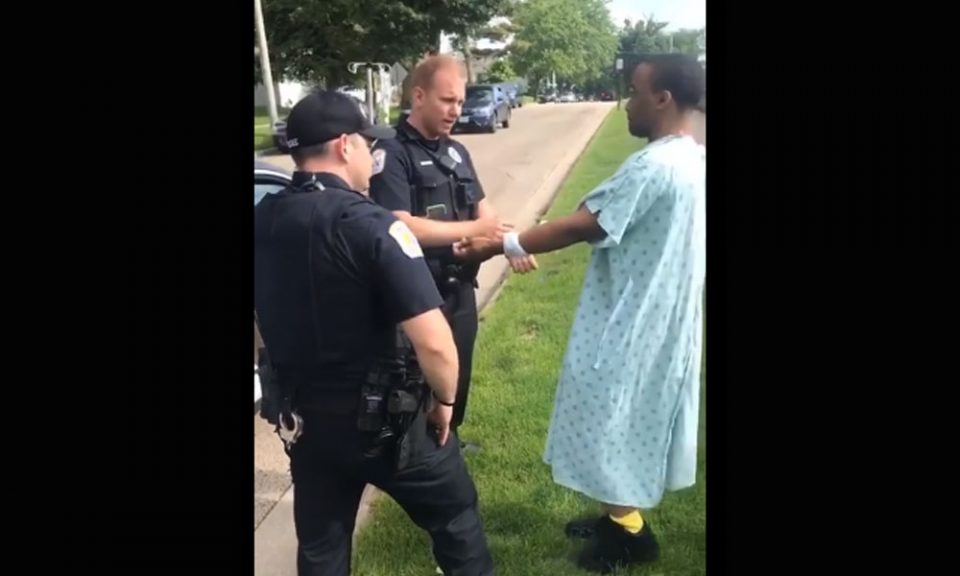 An Illinois man is furious and claiming that he was a victim of racial profiling for being Black while hospitalized. Shaquille Dukes,24, was arrested by a Freeport, Illinois police officer, while he was a patient at FHN Memorial Hospital. Dukes was hooked up to an IV and pump and stepped outside the hospital doors. That is when a hospital security guard accused him of trying to steal the equipment to sell online.
On  June 9, Dukes had been at the hospital for double pneumonia and asthma-related issues for two days according to the Journal-Standard. His doctors cleared him to go for a walk as long as he did not leave the hospital grounds. While walking with his brother back to the hospital doors, an unidentified security guard ordered the men to follow to his car across the street. Things then took a turn for the worst. Dukes said of the interaction with the guard "He had gotten out of his vehicle and said, 'What are you going to do, steal that and sell it on eBay?'" Dukes said. "I told him, 'This machine is pumping fluid into my veins as we speak.'"
After a back and forth between Dukes, his brother and another man who was recording the encounter, the security guard called the Freeport police.  The police arrested all three men despite their story. The police told Dukes he was being arrested for attempted theft since he was off hospital property with the medical equipment. Dukes stated that his rescue inhaler was taken from him, and police ignored his medical distress while he was being transported to jail for booking. According to Dukes he passed out and also suffered a seizure in the vehicle used for transport. He was later given back his inhaler after he regained consciousness.
Dukes recently posted the video of the incident to his Facebook page and the story has gone viral. This week he filed a racial profiling complaint with the city and feels that the incident would not have happened if he was a White patient.  The Freeport Police Department has also announced this week that it has opened an internal affairs investigation into the matter and urges the public not to rush to judgment. The hospital has refused to comment to media stating it was a police matter according to the Raw Story.
Video of the encounter can be seen below:
https://www.facebook.com/shaquille.dukes.52/videos/pcb.2226679180783666/2226677210783863/?type=3&theater