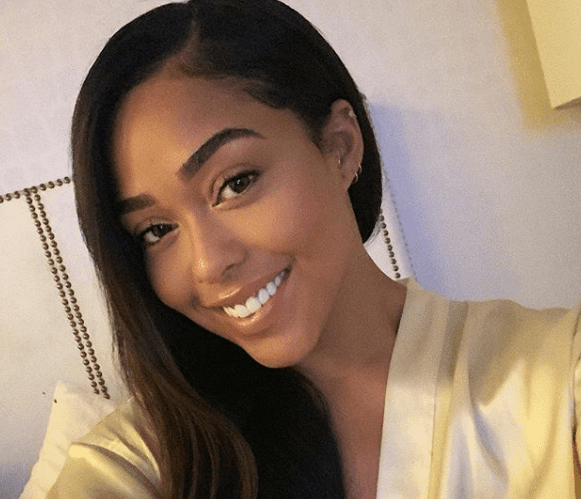 Larsa Pippen, the ex-wife of NBA legend and former Chicago Bulls star Scottie Pippen, claims that Jordyn Woods was lying when she said she only had one romantic rendezvous with Khloé Kardashian's ex-boyfriend Tristan Thompson.
It appears that since the public has become weary of the Kardashians bullying Woods, they have dispatched a representative to keep this flame flickering.
Pippen boasts a close friendship with the Kardashian-Jenner clan and has a gang of photos with the famous family on her Instagram page. She reportedly is the one who witnessed and then told the Kardashians about the lip-lock heard around the world.
While on the Hollywood Unlocked podcast, Pippen said when she called Kim Kardashian about the blatant betrayal, the reality star did not believe it. But her sister Kourtney Kardashian certainly did.
"I called Kim. She did not believe me — she was like, 'No way. There is no way.'' Then we called Kourtney and she was like, 'Yeah, I believe it.'"
Pippen continued on during the podcast, saying that "because there were other situations where they were in the same room and it was like, a weird feeling. And Kourtney was in the room, too."
If Pippen's account is accurate, then it provides a starkly different account than the one Woods, 21, gave Jada Pinkett Smith on "Red Table Talk." There, Woods said that while she and Thompson, 28, did engage in flirting and some touching during a party at his house one night, she was surprised that he planted a kiss on her the next morning.
Pippen's story also seems to be corroborated by popular YouTube star Jeffree Star, who claims many other people in Calabasas knew of the illicit tryst.
"When you live in this city," he said of Calabasas, California, which is about an hour northwest of Los Angeles, "you know more than the average person. You know makeup artists, nail techs, massage people, assistants, everyone runs their m—–f—— mouth! You think people care about NDAs in this town? … Listen, Jordyn really just said that on the way out of Tristan's house, he kissed her on the mouth. That is a m—–f—— lie. Y'all have been hooking up for a month or two. The whole city of Calabasas knows it. There's eyes everywhere, there's normal people that aren't famous that are your neighbors, b—-. And everyone sees everything. Y'all have been hooking up for a while. It finally came out. You're f—– shook that the truth's out, and you're trying to save your a–, girl."
Here is the full Jeffree Star tea on the matter below: