Ouch! Doctor says Wendy Williams is lying about romantic involvement
Wendy Williams came off a tad cocky, perhaps even a trifle arrogant, when she claimed on her TV talk show on Monday, July 8, 2019, that men of all ages were attracted to her because of her "charm and wit."
Well, there is one man who is not, though Williams claims they are in a deep relationship.
The talk show star began her monologue on "The Wendy Williams Show" saying that she wasn't interested in the young man she flew back to New York from LA with, Marc Tomblin.
"Here's me and Marc running around town, [while] you all thinking I'm messing around with a 27-year-old. Twenty-seven-year-old boys quite frankly do find me attractive. I get it. I get it," she bragged as she flung her hair aside. "But when it comes time for the comfort of a man, I need somebody in his 50s, too. And he's gotta work. It helps that he's a doctor … I am not gonna say one more word. You're not gonna blow this for me."
But can you blow something that doesn't exist?
Dr. Darrin Porcher, 52, said he is not dating the talk show host, despite the fact Williams said she was dating a doctor who was in his 50s and who boasted bulging biceps.
The retired NYPD detective-turned-TV commentator and instructor said he simply signed on to be a part of Williams' security team after she filed for divorce from her estranged husband, Kevin Hunter, and banished him from her TV set, Page Six reports.
Porcher, a TV personality himself, has also been a guest on "The Wendy Williams Show" before. Porcher is reportedly a professor at Pace University and does consulting work on the side.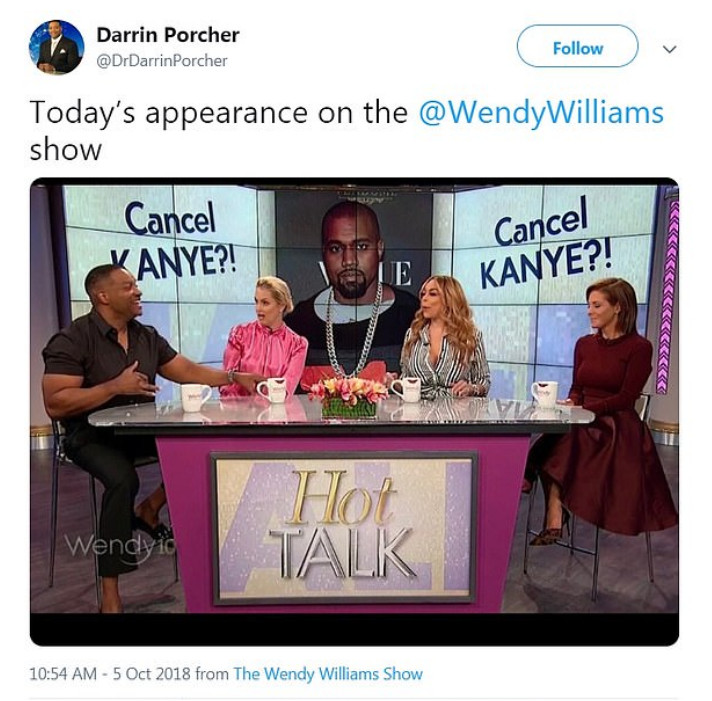 But he said that he is not in a relationship with Wendy.
"I'm flattered, but that's not the case. I was brought in to provide security for Wendy during her divorce. She wanted someone with an air of legitimacy. But that's where it ends. I'm happily in a relationship right now."
What do you make of Williams' claims? And how many Black doctors are there orbiting her world who are in their 50s with sculpted physiques?