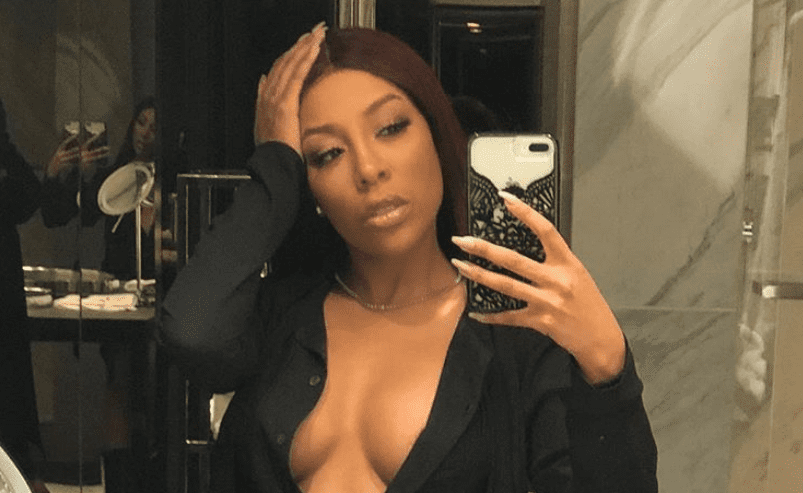 Many fans are appalled that singer K. Michelle of "Love and Hip Hop: Hollywood" is going to reappear on the show after she made a big production of quitting the series last year.
K. Michelle abruptly walked away from the popular reality show after season 5, blaming producers for their "sloppy" editing that, in her estimation, had her looking crazy. She was also in her feelings about producers describing her life-threatening plastic surgery as "botched."
"I quit already. They reach so much they loose the truth. I'm cool (sic)," she tweeted to a fan in June 2018 when asked if she was returning to "Love and Hip Hop: Hollywood."
She then added, "Done. Done."
Today, however, the "Pay My Bills" singer has done a total 180-degree turn. Michelle trumpeted her comeback to "LHHH" in the season 6 trailer with this:
"Y'all thought y'all seen it, but y'all ain't seen s–t like this. … Y'all seen me shake the tables, but you ain't seen me like this. A little bit of country ain't never hurt nobody."
In the comments section under the Instagram post promoting "LHHH" season 6, some fans expressed disgust at K. Michelle's return. Some say her pockets are empty because of lackluster album sales. Others are repulsed by her alleged franchise hopping. K. Michelle began with "LHHATL" before moving to "LHHNY" and then landing with the Hollywood version.
Check out the fans sounding off below:
"Why TF she back? 😕 I could've sworn she made a big deal n quit last year. 🙄 Them last albums didn't do well huh."
"K.michelle just going from one l&hh to another. Sis needs them coins 😂."
"Bye K Michelle why tf you keep coming back 🙄. Been on LHH since Atlanta she need a check apparently."
"Didn't K. quit? Why is she on this trash show again? I think she might need the money 😕."
K. Michelle has starred on the "Love and Hip Hop" franchise since it first aired in 2012 featuring "LHHATL." She made her way over to "LHHNY" and now she's on "LHHH."
There are, however, a few K. Michelle fans who have her back:
"I'm so happy to see K. back this season might actually be good ❤️."
"I thought K. quit the show so happy to see her back